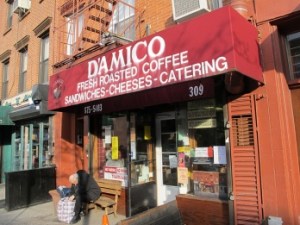 D'Amico Coffee, the 64-year-old Brooklyn family-owned grocery that has been grinding its own beans since it was founded in 1948, has been forced to change its operations because some new neighborhood residents who hate the way coffee smells keep calling the fire department on the store.
That's right….Carroll Gardens is officially the worst. See below for the new sign on the Court St. location:
Much like the first note D'Amico put up when the anonymous 311 calls brought a health inspector to their door, the sign conveys the frustration of the owners–Frank D'Amico Jr. and his wife Joan D'Amico– in dealing with recent urban(er) transplants who claim they want a more relaxed neighborhood than NYC, and then keep acting like uptight Manhattanites.