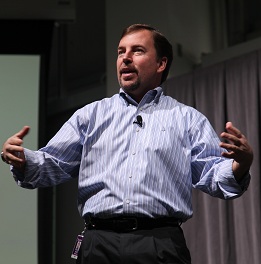 Dan Loeb seems like the kind of guy who knows his way around a box of documents. That's bad news for Yahoo!, because he's likely to get just that after requesting board records under a Delaware legal provision, a professor at the state's Widener School of Law says.
Here's the catch-up:  Mr. Loeb uncovered the lie on Yahoo! boss Scott Thompson's resume by calling Stonehill College and enquiring if the institution offered a computer science major at the time of Thompson's graduation (it didn't). He uncovered the lie on the resume of Patti S. Hart, the director who headed the hiring process that landed Thompson at Yahoo!'s helm, by comparing the credentials listed in a 1991 press release with those supplied in 1998.
Now it looks like Mr. Loeb, manager of hedge fund Third Point Capital, may get access to all records, minutes, e-mails and notes pertaining to the hiring process—a scary thought if you're Mr. Thompson, Ms. Hart, of the Willkie Farr & Gallagher associates tasked with the document dive.
If you haven't been following Loeb, the manager of hedge fund Third Point Capital, has been waging a proxy battle to place himself and three others (Harry Wilson, Michael Wolf and Jeff Zucker) on Yahoo!'s board of directors. On May 2, Yahoo! wrote to shareholders expressing the hedge fund manager's unsuitability for the role ("the board continues to believe that Mr. Loeb himself does not bring the relevant skill set and experience").
Bad timing! Mr. Loeb fired back the next day with a letter of his own, revealing the resume inaccuracies and demanding that Mr. Thompson step down. When Yahoo! responded that the error on Mr. Thompson's resume was inadvertent, Mr. Loeb requested board records under Section 220(b) in Delaware's General Corporation Law, which provides shareholders access to documents when the state's Chancery Court finds probably cause of mismanagement.
Here's how things are likely to play out from here: If the Yahoo! board does not meet Mr. Loeb's request, the hedge fund manager can ask the court to compel the delivery. The court would hold an expedited hearing with limited disclosure, said Larry Hamermesh, director of Widener's Institute of Delaware Corporate and Business Law.
"If you take the facts presented in the letter at face value, there's misconduct by somebody," Hamermesh said. "The more difficult question is, was their any reason to think that the board did not do the job it should have done in assessing Thompson's hiring?"
That's less of a slam dunk, according to Mr. Hamermesh, but "the is a burden of proof is not super high, as the courts encourage stockholders to make this kind of demand if they plan to make a derivative complaint at later time."
For his part, Mr. Loeb argued in his letter today that the board failed its duty to shareholders by failing to conduct a background check on Mr. Thompson:
"Yahoo! has not explained how its Search Committee could hire a CEO without doing a rudimentary check on the applicant's credentials – a check that would have quickly revealed that Mr. Thompson did not have a computer science degree, as disclosed in the public filings which Mr. Thompson had endorsed for years."
[Yodel Anecdotal/Yahoo! Inc.]