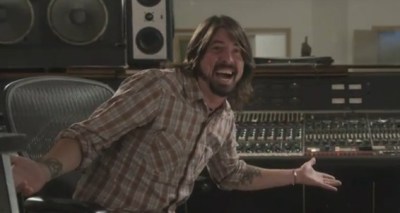 Foo Fighters' David Grohl, who was once in this band called Nirvana, will be directing a feature-length film called Sound City, an L.A. recording studio infamous for being the place where many rock legends were born. Sound City was also the place were the tracks for "Nevermind" were first put down. "Nevermind" was an album by Nirvana.
Are we all on the same page here?
Despite the fact that the trailer (featuring everyone famous! Ever!) has been on the web since February 10th, Mr. Grohl's announcement went out yesterday, along with a link to the new site, SoundCityMovie.com. Here is Mr. Grohl's personal letter about the Van Nuys studio, which will be released by the singer/drummer's company, Roswell Film:


According to the release, David Grohl is making this film because he bought a piece of equipment from the studio:
The film was conceived by Grohl after purchasing the legendary Neve 8028 recording console from Sound City Studios last year. The console, built in 1972, is considered by many to be the crown jewel of analog recording equipment, having recorded such artists as Neil Young, Fleetwood Mac, Tom Petty, Cheap Trick, Guns and Roses, Fear, Nirvana, Rage Against the Machine, Slipknot, Nine Inch Nails, Metallica, and countless other musical legends over the past 40 years.
We wonder if making an infomercial about recording at Sound City Studios was part of Mr. Grohl's arrangement for purchasing the console? Talk about the integrity of rock and roll. Either way, sure to delight fans of Nirvana, Foo Fighters, and other bands.