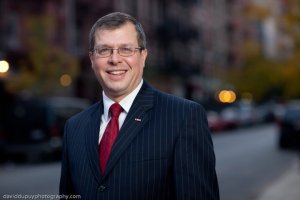 David Menegon, president of the Lenox Hill Democratic Club, has registered a City Council campaign committee and looks like he's set to run for Councilwoman Jessica Lappin's Upper East Side seat in 2013. Ms. Lappin is expected to run for Manhattan Borough President, leaving a vacant seat behind her.
Mr. Menegon's interest in the seat was already established, but he pointedly told reporters that he was only mulling a run and hadn't registered a committee yet.
"I've spoken to a couple of friends about this. I'm interested. I've lived here for almost 20 years," he told Our Town. "I haven't filed any paperwork, I haven't made a decision, it's very preliminary."
But now that has changed and Mr. Menegon wrote on Facebook that "the race is on."
If he formally declares for the race, he would be entering a crowded Democratic primary that already includes attorneys Benjamin Kallos and Nico Minerva, as well as the disco-dancing professor Hill Krishnan. Assemblyman Micah Kellner is also considering a run and if he does launch a campaign, he could be the frontrunner in the race.