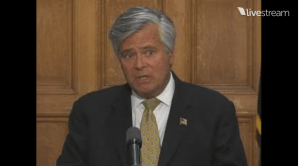 Assembly Speaker Shelly Silver might be aggressively pushing for an increase to New York State's minimum wage, but Majority Leader Dean Skelos threw a big bucket of cold water on the idea after a press conference on college affordability earlier today.
"Every single small businessperson, that I've had the opportunity to meet with and talk to, say they would have to lay off people because of these additional costs," he said. "To me, the moral imperative is to have as many people working as possible."
Mr. Skelos was critical of Mr. Silver's push, questioning why he didn't mention additional costs (i.e. taxes, losing benefits) of the hike.
"Maybe he just thinks he needs to do something progressive," he suggested in response to a reporter's question about Mr. Silver's motives.  "I think that is regressive right now. … Nobody should lose a job because somebody else will get 50 cents more."
Reporters continued to prod Mr. Skelos, noting the high popularity of the minimum wage inrease and asking if he feels Republicans could suffer politically as a result of this.
"You're not supposed to govern by polls," he said, contending Mr. Silver has taken his own positions on things like the death penalty which may have been at odds with popular support.
Pressed again on whether he'll even let the minimum wage increase be voted on in his chamber, Mr. Skelos responded bluntly.
"I'm just telling you, we will not pass the Speaker's bill."