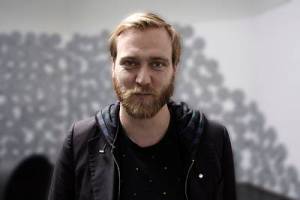 Jesper Just, who's known for video works that often include multiple screens, high production values and rich musical accompaniments, will represent Denmark at the Venice Biennale. Art Review released the news today, which was confirmed by Mr. Just's New York dealer, James Cohan Gallery. More details about his plans for the Danish pavilion will be released in coming weeks.
When Mr. Just had a one-person show at the Brooklyn Museum in 2008, New York Times critic Ken Johnson declared him a "still young, abundantly talented and wonderfully original artist."
Before joining Cohan, he showed with Perry Rubenstein Gallery in New York. His work is represented in the collections of the Museum of Modern Art, the Carnegie Museum of Art, the Tate and the Israel Museum.
Update, May 23: The James Cohan Gallery will have a show with Mr. Just from Sept. 6 to Oct. 27, which will feature the New York premiere of two of his works, Sirens of Chrome (2010) filmed in Detroit and This Nameless Spectacle (2011)