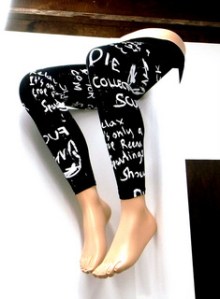 In terms of raw ambition, the only show on the Lower East Side currently eclipsing Ramiken Crucible's Bjarne Melgaard-helmed, tiger-filled affair is Merlin Carpenter's "Tate Café" exhibition at Reena Spaulings, which features a none-too-shabby reproduction of the Tate Modern's café.
There's a lot to explain (the Spaulings proprietors hash it out with Mr. Carpenter in a lengthy interview, so here's Roberta Smith's succinct summary and really accurate editorializing:
"Alternately tedious, self-indulgent and insightful, it covers the misunderstandings and hurt feelings surrounding the dealers' appropriation of Mr. Carpenter's work for their contribution to "Pop Life," a 2009 exhibition at the Tate Modern (in which they participated as an artist named Reena Spaulings). One of the offending works is a pair of tights printed with phrases from Mr. Carpenter's graffiti paintings ("Die Collector Scum") that was exhibited in the Tate's cafe and is on display here."
All of which is to say that a note dropped into our inbox a few days ago informing us that those leggings are available in an edition of 100 for a cool $100 each. A bargain, really! They're titled Revenge Leggings.  Our birthday is only a few months away.