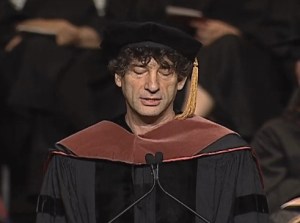 You may have heard about that amazing commencement speech that author Neil Gaiman recently gave at The University of the Arts in Philadelphia. Yeah, the one about exploding cats. It is really about as coherent and logical as you'd expect from a man whose legacy includes a comic book* soap opera about a family of metaphysical manifestations whose names all begin with the letter D. (Or, if you prefer, the guy who wrote Coraline.)
The Sandman and American Gods author used his time at the podium not to give the usual formulaic oxymoron of self-deprecation and inspirational cliches. (Like the time-honored classic, "I couldn't believe when X University asked me to speak to this year's graduating class since I'm so unqualified to give advice, but here is what I learned about how following your dreams and working hard can make you rich and famous and a SNL cast member one day.")
Instead, Mr. Gaiman told the kids how he became a hugely successful fiction writer–by not going to college, lying on his resume, and becoming a journalist for Christ's sakes– before letting the world in in on a very big secret about how to make it as a freelance artist. It may be the first piece of practical advice we've ever heard during a cap and gown ceremony.

(Clip starts at 13 minute mark, but seriously watch the whole thing)
It's easy to get work. But people who KEEP work in a freelance world – and more and more it is freelance – it's because their work is good and because they're easy to get along with and because they deliver the work on time. And you don't even need all three.

Two out of three is fine. People will tolerate how unpleasant you are if your work is good and you deliver on time. People will forgive the lateness of the work if it's good and they like you, and you don't have to be as good as everyone else if you're on time and it's always a pleasure to hear from you.
Someone give this man an cyanide-laced apple and call him Alan Turing, because Mr. Gaiman just released the cheat sheets for the publishing industry' Enigma Machine. You can be grumpy and late as long as your work is good? Now that's the kind of real world knowledge that wunderkinds all over really need to hear.
Of course, it would have been even more exciting if Mr. Gaiman told us how to get paid on time…or tips for how a fantasy/sci-fi nerd could end up in the company of both Tori Amos and Amanda Palmer.
*Excuse us, graphic novel.