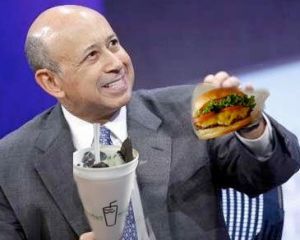 Battery Park City. Like the Upper East Side or Mill Basin, it's the sort of out-of-the-way neighborhood you never visit unless you live there, or maybe there's a concert going on at the Winter Garden?which feels more like the Financial District anyway, so does it count?
Well, NY1 has a report out about how Battery Park City has finally come into its own, and it is indeed a place worth visiting. Much of the credit is given to Danny Meyer for spicing up the food scene, but really, credit is due Lloyd Blankfein.
From NY1:
The growing demand is generating growing interest from businesses who are realizing this is an untapped market. Restaurateur Danny Meyer recently opened three restaurants -Shake Shake, Blue Smoke and the North End Grill – which has quickly become a hot spot. Now people from all over the city are coming to the area to dine.

"The decision was made to open in this neighborhood because we felt it was underserved. It?s a growing community and we just really wanted to be a part of it," says North End Grill General Manager Kevin Richer.
Ah, but the real reason Mr. Meyer is here? Because Goldman Sachs kicked out all the crappy retailers when the investment bank moved in next door and brought on Union Square Hospitality to bring a little more flavor to the neighborhood.
You want an Applebees or Chevy's, try Mill Basin.