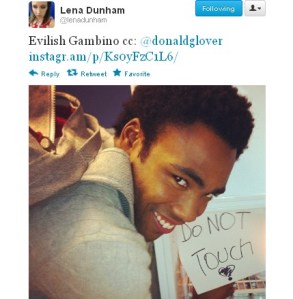 Now that Dan Harmon is out as show-runner for Community, one of the show's is heading back to New York.Comedian/writer/actor/Childish Gambino performer Donald Glover, who began his comedy career UCB as part of the viral troupe Derrick Comedy while still attending NYU, and was plucked directly out of college by Tina Fey to write for 30 Rock (and win an Emmy in the process), has been confirmed by Lena Dunham as the latest cast member of Girls. The second season of the show is currently filming at Steiner Studio in Brooklyn, which is where the New York Post first snapped a picture of Ms. Dunham and Mr. Glover hanging out; wunderkind to wunderkind.
Yesterday, Ms. Dunham confirmed that Mr. Glover would be joining the show.

"We're entering sort of Battlestar Galactica territory, and he's going to be the ship captain," Ms. Dunham told TV Line in an exclusive reveal of the newest cast member of the hit HBO show.
This might come as a surprise to some of the other actors on Girls. During a chance encounter at the Gowanus Yacht Club on Sunday, The New York Observer asked Adam Driver (who plays Adam, the sexual psychopath f-buddy of the protagonist,) about Mr. Glover's involvement. "I don't know who that is," he replied, with a shrug. "It's entirely possible." He added.
If you thought this would quiet the critics who claimed that Girls' all-white ensemble was the manifestation of hipster racism, think again. Ms. Dunham told Terry Gross during her NPR interview last week that she "wanted to avoid was tokenism in casting," which is exactly what the Post accused her of the moment they got wind of Mr. Glover's appearance.
"'Girls' quick fix" read the headline of the piece, which was followed by the subhead, "Dunham films with black actor first week back on set." And in case that didn't spell it out for you, here's the opener:
"Girls," which has been blasted in the media for its lack of diversity, began filming its second season in Brooklyn this week.

And surprise, surprise, the creator and star of the HBO show, Lena Dunham, was photographed filming on a stoop with African-American "Community" actor Donald Glover.
That "tokenism" quote makes it into the Post article as well.
Slammed if you do, slammed if you don't: we'd tell Ms. Dunham not to mind the haters…Mr. Glover will be a great addition to the show. The only thing Girls needs to do to shake off the racetroversy is make sure that Lesley Arfin stops tweeting.