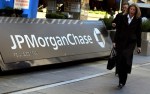 Three JPMorgan executives tied to the massive trading losses announced last week are expected to resign, Yahoo CEO Scott Thompson stands aside and a hedge fund calls for Aubrey McClendon's head. Here's the morning Wall Street roundup:
Blow back: Jamie Dimon went on Meet the Press and said JPMorgan was "dead wrong" to dismiss early stories of the massive position in credit derivatives accumulated by the bank's chief investment office and the trader nicknamed the London whale. "We got very defensive, and people started justifying everything we did," Dimon said.

Ina Drew, the JPMorgan executive who loves crisis, is expected to resign today after the bank lost more than $2 billion on a credit derivatives trade she oversaw. Achilles Macris, the executive who oversaw the London-based operation that placed the trades, and trader Javier Marin-Artajo, are also on their way out, the Wall Street Journal reports.
It appears the chief investment office's entire London operation could be dismissed.

Cover up: Who knows what would have happened if Yahoo CEO Scott Thompson had come clean about his resume from the start—in the end it was Mr. Thompson's lie about how the gratuitous degree in computer science first appeared that led to the executive's resignation.
Yahoo named Ross B. Levinsohn—its head of global media and the former News Corp. exec who presided over that company's $580 million takeover of MySpace—as interim CEO.
Meanwhile, Third Point Capital, which led the call for Mr. Thompson's resignation, will end its proxy fight after Yahoo agreed to give the hedge fund three seats on its board of directors, including one to Third Point founder Dan Loeb.
Love letter:  Noster Capital, a London-based hedge fund that owns a small stake in Chesapeake Energy, is calling on CEO Aubrey McClendon to step down. Noster cited more than $1 billion in personal loans secured by Mr. McCLendon's stake in Chesapeake wells, the recent disclosure of off-balance sheet liabilities and…the catering in a letter signed by founder Pedro de Noronha.
Activist investor Carl Icahn, meanwhile, is expected to disclose that he has taken a large stake in Chesapeake.
Filing looms: The board of directors for Residential Capital, the mortgage unit at Ally Financial, is on the verge of filing Chapter 11 bankruptcy. Fortress Investment Group is expected to bid $2.4 billion for the majority of ResCap's assets when the long awaited filing goes through, while the Times lists hedge fund Elliot Management as among the Ally investors that oppose an asset sale.
Filing looms, too: LightSquared executives spent the weekend prepping for bankruptcy court, after negotiations with lenders stalled. LightSquared, the wireless venture backed by Phil Falcone's Harbinger Capital, has until 5 p.m. today to reach an agreement with lenders.
Greek re-vote: Alexis Tsipras, the Syriza party leader who would tear up the rescue plan struck with the European Union, is poised to finish first in the next round of Greek elections, raising the specter of a messy eurozone divorce.
Sales call: Avon is considering a $10.7 billion takeover offer from rival Coty, after rebuffing previous advances.
[DON EMMERT/AFP/Getty Images]