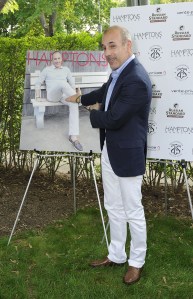 The sweltering pre-summer heat has begun to settle upon our fair city. In the season during which New York's every nook and cranny teems with sweaty tourists, true city folk gather their kaftans and swim trunks, and head for the hills. The sandy hills of Main Beach, that is.
Fetching our long-hibernating car, we were pleased to find it still filled with the detritus of last summer. A slightly deflated sunhat, a beloved pair of flip-flops, a tube of now suspect sunscreen. We smiled, remembering with sandy fondness of our time Out East. Yes, while the city has its undeniable boons, nothing can quite compare to the Talkhouse late, late on a Saturday night, nor the peculiar shock of seeing endless George Hamilton clones strolling the bucolic streets.
Suffering through city traffic, and the doldrums of 495, we finally emerged on Route 27 where droves of convertibles wove between the trucks, each unnecessary acceleration screaming, "I'm getting to the Hamptons faster than you, just watch!"
Practically suicidal after hearing "Call Me, Maybe" a full six times on the radio, The Observer lost reception and exited the highway where congested interstate turned to into congested country road. Memorial Day weekend in Southampton, was, as expected, crowded. Women in airy maxi-dresses appeased screaming children with ice-cream; teens shopped the Soho-esque boutiques; young beaus in bright, patterned (ducks, flowers, whales, anything) swimmies showed base-tanned thighs; South Fork natives, wearing indignant athletic shorts and T-shirts, eyed their summer prospects.
We drove to Cooper's beach, that riotous stretch of ostensibly public coastline which demands a $40 dollar daily parking fee. Barefoot, we traversed the sand and took a dip in the still-frigid waters, officially baptizing summer 2012. Basking in a beach-chair, we noticed that while our season had only just begun (as evidenced by our sadly pallid skin), others already seemed accustomed to the littoral tableau.
Salty-haired kids were busy digging holes at the water's edge, entirely oblivious to the cold. Umbrellas partially shaded a group of buff (guy) and coquettish (girl) lifeguards, making it difficult to parse the group's surely brewing summer romances. Our reverie was cut short, however, when a young beachgoer, packing up for the afternoon, whined as he headed toward the parking lot carrying a beach chair. "Mom, is there any way to open the Mercedes trunk from your cell?"
Leaving the beach, we drove along the country lanes, peering at the houses.
As we drove up Elm Drive, a convoy of valets heralded our arrival at the Hamptons magazine fête.
"Happy Hamptons!" A chipper reporter greeted friends, awaiting the arrival of the magazine's most recent coverboy, Matt Lauer. While Today Show host was running uncharacteristically late, his likeness was broadcast throughout the venue. Copies of the magazine were arranged on tables for guests to peruse, and purported VIPs (housewives, real and otherwise) posed alongside posters of Mr. Lauer's boat-shoes-and-khakis cover shot.
Bobby Flay tried to skulk in unnoticed, but was promptly called back to the step and repeat.
Peter Brant Jr. was in attendance, behind a pair of oversize sunglasses as he posed for photos with friends. "Now lets see one with a big smile," a photographer said, wishfully. But Mr. Brandt maintained is cool countenance.
Trying to talk over the incessant gum popping, we spoke to model Julie Henderson, who shared her thoughts on the Hamptons. "I'm a resident here, for the summer" she explained. While Ms. Henderson stays in Southampton, she assured us there was no inter-Hamptons rivalry. Still, she prefers her own enclave. "I just think it's cuter," she said. Moreover, Ms. Henderson believes most people have quixotic vision of Long Island, believing the hamlets to be unrealistically opulent.  "I don't find it to be really luxurious, in a way that people probably that don't come here see it," she told The Observer. "It's very relaxing. I can bike to the beach."
Others, however, found the Hamptons have waned in recent years. "I would say in the past ten to fifteen years things have changed drastically here," Fern Mallis said. "The influx of all these people form Wall Street and from Europe, and the amount of money that people are spending here," she said, were reasons why the community was indelibly reshaped. "This used to be a place where all the artists and writers and everybody could come and work and afford to live out here, and it's very difficult for them now," she said.  "Farms are going and all the land is going, and it's getting really crowded."
In particular, Ms. Mallis bemoaned the Hamptons's epicurean scene, and said she was most looking forward to simple dinners at her home this season. "It's crazy going to the restaurants in the summer! You know I don't do the, 'Do you know who I am? Get me a reservation!' trick."
Still, she was confident that the Hamptons holds some intrinsic value that opportunists and hedge funders can not diminish. "It's still a beautiful place. No matter what happens, they can't change the light and the air and the color and all the special things here."
At last, Mr. Lauer arrived, apologizing for his tardiness. Though humble and unruffled, he made it clear this was not his first rodeo. He smiled at the cameras, affably chatting with the wide-eyed press and answering questions from indiscriminate outlets. He discussed his family's newly acquired Water Mill farm, and his dreams of turning it into an equestrian oasis for his wife and kids.
Mr. Lauer, however, does not ride himself. "You know, I love things like golf and I love things like tennis, and I watch people get banged up riding horses all the time. If I did it, I'd want to kind of do it peddle-to-the-metal, and I think I'd probably end up in a body cast," he told us.
Looking down, we realized Mr. Lauer was wearing loafers without socks. It must be summer! "You know, even though we didn't have much of a winter out here I'm still thrilled that the warm weather's here," Mr. Lauer said. "This is the time we look forward to all year."
Too true!
editorial@observer.com