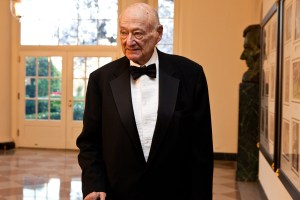 Former Mayor Ed Koch has had a bit of an independent streak in politics (he endorsed George W. Bush for reelection in 2004, for example), but he's not joining the ranks of moderate Democrats expressing skepticism of President Barack Obama's attacks on Bain Capital and Mitt Romney's record with the company.
Newark Mayor Cory Booker infamously — and briefly — criticized attacks on Bain as a broad attack on private equity, and on Inside City Hall last night, Mr. Koch backed Mr. Booker's attempt to walk those remarks back.
"I think it's a bad rap," he explained. "I think he was inarticulate — even though he's a very articulate guy — in not distinguishing between what he believes to be honorable professions when honorably done and … the smut and the attacks made by both parties on one another which he doesn't think are good and neither do I!"
Mr. Koch proceeded to specifically defend the president from criticism in this regard.
"The president made it very clear: He's not attacking people on Wall Street," he argued, noting that the financial sector pays a good portion of New York City's taxes. "So as long as they're paying and being honorable, who should attack them? On the other hand, I do attack the people engaging in abuses. I do attack people like J.P. Morgan that's leading the fight to end regulation."
Of course, it might not be that surprising for Mr. Koch to stick up for Mr. Obama on this issue, he was most recently found hosting a press conference in front of J.P. Morgan's headquarters demanding more federal regulation.