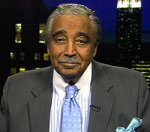 Charlie Rangel will be endorsed Saturday by a host of elected officials from East Harlem, including City Councilwoman Melissa Mark Viverito, State Senator Jose Serrano and Assembly member Robert Rodriguez (who, it should be noted, already endorsed the Congressman.)
The Rangel camp are filling out the stage with a number of electeds closer to his central Harlem base, including State Sen. Bill Perkins–who at one point had been rumored to be making a run for the seat himself–and district leader Keith Lilly and Cordell Cleare.
If Mr. Rangel is expected to do well in central Harlem, and Adriano Espaillat is expected to pull heavily from the Dominican neighborhoods in Washington Heights and the Bronx that the new district covers, El Barrio is set up as something of a swing neighborhood. It is, of course, a Puerto Rican neighborhood of longstanding, and it remains unclear how energized Puerto Ricans will be to elect a Dominican to Congress. Mr. Espaillat was endorsed recently by two of the most prominent Puerto Rican pols in the city, former Bronx BP's Adolfo Carrion and Freddy Ferrer, but both hail from the Bronx, and Mr. Rangel has represented East Harlem for some 40 years.
Meanwhile, the Rangel campaign has flagged the following article from The Norwood News which Mr. Espaillat appears to  be welcoming the support of a conservative Super PAC devoted to toppling incumbents:
Espaillat also said his campaign was not in direct contact with an anti-incumbent Super Political Action Committee (PAC) that announced its support for Espaillat last week. (Direct contact with Super PACs is a violation of campaign finance regulations.) But when it came to their support, "I'm not going to say no," he said.