Typically, journalists don't get much fan mail so much as letters from The Concerned Public, weighing in on their take with whatever the matter of the day is. It makes sense: Reporters at daily newspapers—especially those who quietly, diligently, and often thanklessly hack away on metro beats—are usually tasked with the gathering of facts first and foremost, and then, the clear-eyed relaying of those facts (usually in a well-established format, like the inverted pyramid). Where there's room for creativity, it's in the subtle details, and they usually don't end up the recipients of epic pieces of fan mail from world-renowned authors.
Until they do.
Earlier this month, Tammy Battaglia—a breaking news reporter at the Detroit Free Press—wrote a story about a 26 year-old roofer who was electrocuted while working on a job. He was saved by being kicked off of a roof by a co-worker.
It's a pretty great filing, but that's what it was: a filing, another day's work. It didn't go viral, or national, but it's certainly a great piece of local reporting any paper would do well to have. So imagine Battaglia's surprise at a little piece of fan mail she got from one of the greatest writers to ever reside in Detroit, and one of the most well-known crime novelists and masters of dialogue in the King's English: Elmore "Dutch" Leonard.
Leonard, who's currently experiencing yet another peak in popularity with the success of FX's Emmy and Peabody award-winning Justified (which is based on his Raylan Givens stories), decided to write in to Battaglia to tell her what a fan of her writing he is. He doesn't own a computer, so the letter—like all of his manuscripts—was hand-typed.
It reads:
Dear Ms. Battaglia,

I read your story the other day about the roofer narrowly dodging death and admire the way you wrote it: the way you took your time and used dialogue, Quinlan telling what happened and his co-worker's first attempt to help, summing it up with the one-line paragraph "That didn't work either." Not wanting his mother to know about it pays off the story. She does and makes the reference to warming up cat food. What I admire the most is the sound of your writing, your effortless style.

Take it easy,

Elmore Leonard.
Rather than scream about it on Twitter, it was one of Battaglia's colleagues who Tweeted it out ("@elmoreleonard sends praise letter to coworker @tammybattaglia. Way to go, Tammy! Very jealous. ‪#freep‬ ‪#elmoreleonard") along with a photo of the letter: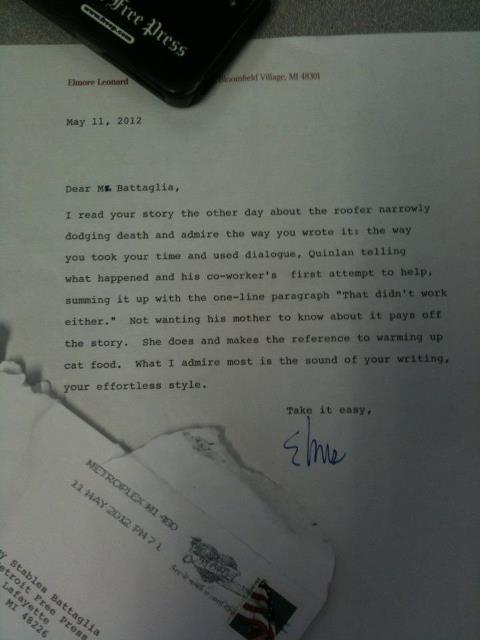 To cap it off, Elmore Leonard's assistant—the guy running his Twitter account—re-tweeted it out to all of Leonard's fans following him to see the writer's endorsement of Battaglia. It's easy to imagine that most working journalists in the world don't get any kind of formal recognition for their efforts—like awards, or national stories, let alone any media coverage—besides the kind words of their editors and co-workers.
As far as plaudits go, however, this has to be one of the cooler ones anyone's ever received. That one is absolutely worth framing.
fkamer@observer.com | @weareyourfek