More than 30 years after his son Etan became one of the first missing children to appear on a milk carton, Stanley Patz has withdrawn distribution rights for his photographs from the Associated Press.
In a statement, the AP said it had removed four photos of Etan from their database and instructed its member newspapers do the same. The request came shortly after the April excavation of a Soho basement failed to uncover Etan's remains and before Pedro Hernandez's confession thrust the grieving family back into the media spotlight.
When 6-year-old Etan disappeared on the streets of Soho in 1979, the Patzs believed circulating the collection of personal photos (Mr. Patz is a professional photographer) would aid in their son's speedy return. Instead, they helped make it one of the most sensational and heartbreaking media stories of the decade.
As John Miller, a CBS News senior correspondent who covered Etan's disappearance story for Channel 5 News, told The Observer in its oral history of the media spectacle: "You had this clear-eyed, bonde-haired boy, with this impish grin who would mug for the camera in different ways, and a father who had hundreds of high-quality photographs. It was something that was very organized for television and the newspapers because of the imagery."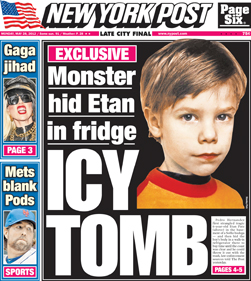 "The photograph," author Anna Quindlen, then a New York Times reporter said. "There's probably no little boy who's ever been photographed in history who is as alive in the frame as that child is in those photographs."
Indeed, the iconic story's re-emergence is a boon to tabloids, especially since the revocation of the AP's distribution rights doesn't apply the publishing permissions that the Patz family gave individual news outlets, according to one New York photo editor. In the meantime—as any hacked starlet can attest—the Internet has made controlling an image's circulation virtually impossible.
But since Etan was legally declared dead in 2001, the photographs' emotional impact—and their enduring ability to sell newspapers—only serve to extend his family's pain.
"I wish this could end," Etan's mother Julie Patz, told the Daily News. "This is taking my freedom away. I just wish this could be over."
Mr. Patz taped a sign outside his Soho loft, addressed to "all the media people hanging around here."
"You have managed to make a difficult decision even worse," he wrote. "It is past time for you to leave me, my family and my neighbors alone."