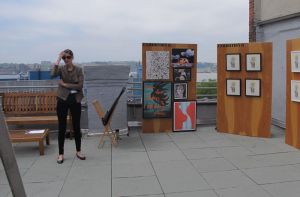 On the roof of NADA, Exhibition A has set up a "flash gallery" with three wood walls presenting prints by Aurel Schmidt, whose work is on view for the first day of the fair.
Her print is a sketchy rendering of a beer can holding a cluster of yellow wild flowers, presented on a couple of natural wood walls erected for the duration of NADA amidst the crowds bustling up to the perpetually long line in front of the café area.
Tomorrow, Ms. Schmidt's prints, whether sold-out or not, will be replaced by a new set of prints by street artist and club impresario Andre Saraiva. After his 24 hours are up, they'll be switched out for prints by Sam Falls.
This is kind of the normal course of business for Exhibition A, on speed. The "members-only" website—co-founded by Ms. Martin along with Half Gallery owner Bill Powers, designer Cynthia Rowley and Gabby Munoz—ordinarily launches one new work per week, each of which is an editioned print by a contemporary artist (both known and emerging) all priced under $1,000.
But they're speeding up their process and going "flash" as a kind of playful response to the sudden craze that greeted a Richard Prince print back in March.
"This Richard Prince sold out in 12 minutes," said Ms. Martin holding open a giant portfolio book with the print, entitled What We Lose in Flowers (the name of Mr. Powers's recent novella, by the way), which was visible through a laminated sleeve. It had a black and white pin-up image obscured by collage-work. Mr. Prince's success had coattails.
"The week after Richard, they launched a work by Wes Lang," she said, "and his sold out in three hours."
Compare this to the first time they offered Mr. Lang's work on the site, when it took a whole week to sell out.
While this head-spinning program seems apropos for the fevered art fair environment (it's not uncommon for galleries to cycle in works as others sell), if for some reason these prints don't sell like hot-cakes, or you can't make it down to NADA, take heed. "If they don't sell out," said Ms. Martin, "they'll eventually launch on the website."