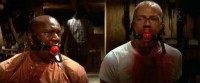 Ah, yes: Fifty Shades of Grey, the porn-y erotic fiction book that has swept the nation, sending it into feverish bouts of…reading erotic fiction. If you haven't heard of it by now, you either don't take the subway enough, or don't pay attention to what people on the subway are reading, or don't have enough horny friends who also enjoy the occasional bestseller. Either way, it's a sexy about sex between a college student and an international business magnate. And now you can act it out! It's like those real-life games of Quiddich, but instead of playing magical soccer with brooms, people are having sex with whips.
Within the pages of Grey are sexy descriptions of sexy bedroom BDSM (or: Bondage, Discipline, and Sadomasochism). NYC shopping blog Racked has taken note of notoriously hip Lower East Side sex shop Babeland is having a Fifty Shades of Grey workshop to learn how to have sex like they do in the book. Via Babeland's site:
Fallen under the spell of Fifty Shades of Grey? If you're curious about how to try out some of the scenes from the book, we'll discuss ways to make your fantasies into reality. At this cocktail party, bring your girlfriends or your lover and get inspired to try new things in the bedroom. Arrive early; the first twenty five guests will receive gift bags filled with toys that are Mr. Grey Approved.
Best of all, it's at a price even Katie Ropihe could afford: Free!
fkamer@observer.com | @weareyourfek