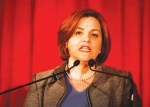 Council Speaker Christine Quinn  seemed a bit flustered at a news conference before the City Council's monthly stated meeting. She spoke louder and faster than usual. She interrupted herself at one point to take a long drink from a glass of water underneath the podium.  She fanned herself. When another council member came up to the podium to speak, Ms. Quinn, standing in the background, brushed some dirt off the suit jacket of Councilmember Jumaane Williams of Brooklyn.
If Ms. Quinn seemed a bit anxious, perhaps it was the City Council was today voting to override a veto by her erstwhile ally, Mayor Michael Bloomberg, on legislation that would require the tenants in city-owned buildings to pay service workers a prevailing wage, and voting on another bill that would set up examine how financial institutions where the city does its banking serve local communities.
Asked by a reporter about comments by the mayor which suggested that the City Council was telling private enterprise what to pay employees, Ms, Quinn, said that her bill was merely engaging in the free enterprise system in the same way that Mayor Bloomberg's economic development strategy was.
"The mayor has also said this is kind of mixing in the marketplace, but if you think about it the entire economic development package of the City of New York, hundreds of millions of dollars, is mixing in the marketplace to try to cause positive things to happen for the public interest," she said. "This is just building on that same theory. Beyond that, in 2002, Mayor Bloomberg signed into law the most far-reaching wage requirement laws I think the city has ever seen.  A bill that covered many more workers than this law."
Asked then about administration claims that the city's Department of Finance simply lacks the resources to regulate the banking industry in the way that the Council bill requires, Ms. Quinn said she disagreed with them.
"I just disagree with that. I believe that out Department of Finance is well staffed and has smart people in it and I certainly think we all hope and expect that our city Department of Finance has banking experts in it. But lets say then they didn't, that they needed to bring in another person or two to help analyze this data," she said, adding, "If we needed to hire a few people to do bank data oversight analysis, this is not hard to find in the market nowadays."
Ms. Quinn was then asked if there was something deeper going on here–if it wasn't so much that she and the mayor find themselves on the opposite sides of a couple of bills that happen to come on the floor at the same time, but if there is a philosophical division over say, what to do about growing inequality or the role of government in the marketplace.
The speaker said there was not.
"I think there is a disagreement on three pieces of legislation. Two of which deal with the wage issues and I think very clearly the vast majority of us in the City Council decided that when businesses decide on their own free will to take city subsidies or to take a high level of city tenants, that it is appropriate for us to put fair additional wage requirements on them because they are getting a lot of money from the taxpayer," she said.
Ms. Quinn then tried to find areas of common ground with the mayor.
"The city of New York has an enormous economic development program. If you think the city shouldn't involve itself at all in the market place then why do we have this multi, multi million dollar program? Of course we involve ourselves in the market space, to a responsible degree, to try to cause positive things to happen for the public and this is just a continuation of  that philosophy and the same philosophy of the legislation that the mayor signed into law into 2002 or 2003 and we disagree on these wage pieces of legislation."
But perhaps if the speaker was off today, it wasn't so much due to her disagreements with the administration as her upcoming nuptials. She hadn't written her vows yet, she told reporters.
"You are all a pain in the neck. You are going to get me in a lot of trouble," she said, adding that she had stressed out about them a great deal.
And then asked if she was nervous about the big day, Ms. Quinn said simply, "extremely."
All can't be bad between her and the mayor, however. He is donating to a fund on her registry dedicated to finding a cure for breast cancer.