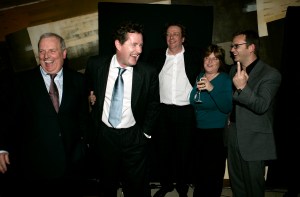 Andy Coulson, the former News of the World editor who resigned over phone hacking allegations (and resigned from his subsequent post as head of communications for David Cameron over the same), is being detained by police for alleged perjury, reports The Guardian.
Talk about tangled webs: Mr. Coulson allegedly lied during another guy's perjury trial, Scottish Socialist politician Tommy Sheridan. To make matters more confusing, Mr. Sheridan was being tried for lying during his £200,000 defamation suit against Mr. Coulson's News of the World. Mr. Coulson was actually a defense witness.
Mr. Coulson has not been formally arrested. He was detained by Strathclyde police in London and is reportedly en route to Glasgow for further questioning.