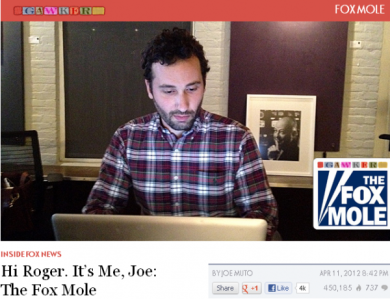 Can't say no one saw this coming: Gawker's Fox News informant, Joe Muto, is taking meetings with publishers this week for a proposed book about his eight years inside the cable news network, tentatively titled An Atheist in the Foxhole.
Mr. Muto, a former associate producer for Bill O'Reilly, was identified and fired by Fox brass less than two days after he began leaking unaired footage and office anecdotes to Gawker.com under the alias "The Fox Mole." At the time, a Fox News spokesperson said the company was exploring its legal options.
True to their word, the New York County District Attorney's office served Mr. Muto with a search warrant early last Wednesday, seizing his laptop, iPhone and notes on suspicion of grand larceny, petit larceny and computer tampering. The warrant, published on Gawker, cited complaints made by Fox vice president for legal Dianne Brandi regarding the Gawker posts, for which Mr. Muto reportedly earned $5,000.
Asked about the Gawker leak at a Hollywood Reporter party earlier this month, Fox chair Roger Ailes slammed the company's business model.
"It's a porno website," Mr. Ailes told Off the Record.
(The odd dick pic notwithstanding, Gawker boss Nick Denton parted ways with  pornography vertical Fleshbot late last year, saying it no longer fit with Gawker's portfolio.)
A handsome advance might help to offset any impending legal headache (especially since Mr. Muto claimed to have been "blackballed" by other news outlets for having worked for Fox), and the proposal promises plenty of Daily Kos catnip not yet published on Gawker.
Unlike MediaMatters.org's straight-faced The Fox Effect and Gabriel Sherman's forthcoming (and reportedly deeply reported) The Loudest Voice in the Room, Mr. Muto's book is pitched as a How to Lose Friends and Alienate People-style industry memoir in a Dave Barry/David Sedaris tone. The proposal outlines chapters devoted to the "cheapness and stinginess" of Fox News ("cannot be overstated"), Mr. O'Reilly's morning ritual ("lots of yelling") and—"in what's certain to be the most talked about chapter of the book"—the 2004 sexual harassment suit filed against Mr. O'Reilly.
"I'll go through the lawsuit line by line, offering my own interpretation and commentary, and will definitively answer the question Did He Do It?," Mr. Muto wrote.
Mr. Muto's agent, Anthony Mattero of Vigliano Associates, declined to comment. Vigliano has recently sold memoirs by Courtney Love and Tom Sizemore, not to mention Fox contributor Mike Gallagher's 50 Things Liberals Love to Hate.
Speaking of, Mr. Muto's proposal pointed out that the book will be a cinch to publicize, what with the "thriving cottage industry of people who love to hate Fox News."
"Hell—certain masochistic conservatives might even buy it, just to get a glimpse inside the walls of what they consider to be a sacred institution," Mr. Muto wrote.
Off the Record called Adam Bellow, executive editor of Broadside Books, the conservative imprint at Fox News sibling company HarperCollins, to see what he made of the pitch's Right wing appeal. His assistant told us he hadn't seen the proposal.