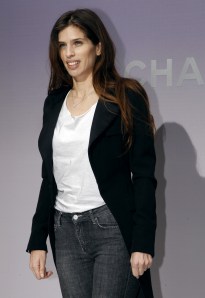 The Observer met with Maïwenn, the French director of the drama Polisse (out Friday), during the Tribeca Film Festival. Was she keeping busy, we wondered?
"No," she said through a translator. "In Cannes it was crazy—not here."
Polisse, about police officers tasked with protecting children, won the Jury Prize at last year's Cannes Film Festival. "As soon as I arrived there, I forgot it was a competition—it was already a victory to get to go there." Maïwenn spent time on an internship with a child protection unit in order to get a complete picture of her subjects: "I didn't portray them as heroes, or antiheroes, or bastards—there's no judgment involved."
The subject of children's safety may resonate especially with Maïwenn, who was a child actress "filling a void in my mother," she says.
"My professional life began in 2001 when I did my theater work and subsequently my film work. What happened before that is in a fog"–a period that includes a notorious relationship with Luc Besson and a role as an alien in his The Fifth Element that led to her wide notoriety in France. Maïwenn only uses one name, she says, because "my family name is private."
Given the success she's enjoyed at Cannes and a wide-open future–"I would love to do a big romantic comedy," she says, "as the French don't know how to do it. I would love that challenge"–what's missing for Maïwenn? She wishes she'd picked up some Césars, the French Oscars. "I had 13 nominations and I ended up getting two small Césars. It's because I shine too much. I took too much space. There are people that voted against me. The Artist was way behind me in terms of box office and nominations, but France has a tendency to vote for the losers rather than the winners. And I'd already won. But that's something I like about France—because they always think of he who has not rather than he who has."