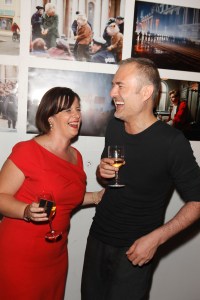 Gawker Media is eyeing an international expansion to harvest licensing revenue from its shiny, new commenting system, according to an internal memo sent out by proprietor Nick Denton Wednesday afternoon.
"Our international efforts warrant greater attention," Mr. Denton wrote in the email, which delineated a handful of related job shuffles.
Gawker already has partnerships in Europe, Japan, Brazil and Australia, and Mr. Denton has deputized COO Gaby Darbyshire to cultivate its "embryonic" relationships in the Middle East, China and India. According to the memo, licensing accounts for 8% of Gawker Media's revenue, but a "significantly greater" portion of after-tax earnings.
With Ms. Darbyshire thus occupied, Scott Kidder, most recently the head of editorial operations, will oversee legal, facilities, HR and employee development. He will also establish an "editorial back office" in Budapest, where Gawker's technology development subsidiaries have been located—and sheltered from the IRS—since day one. (Mr. Denton has Hungarian citizenship.)
Social media manager Lauren Bertolini replaces Mr. Kidder in editorial operations, with a focus on overseeing community development on the site's new discussion platform.
The proprietary commenting system, called Powwow, was launched in late April. It allows commenters to start and moderate their own threads while an algorithm spots and features the best discussions.
"Most new jobs at the company will be tied to the discussion platform," Mr. Denton wrote.
Even Gawker's New York offices will enact some small-scale colonization. The company is "examining a move of Operations upstairs to the fourth floor" and making room for all the hires the new commenting system requires.
"It remains our goal though to move to a larger premises with a full through-floor so all departments can be back within sight (or spitting distance) of each other," Mr. Denton wrote.
Full memo below.
I hinted earlier this month on announcing Ray and Erin's promotions that there was another leg to this reshuffle. (Yes, it was too extensive to get in place all in one single go.)

Our international efforts warrant greater attention — and that means a shift in responsibilities for Gaby Darbyshire and a cascade of job moves affecting Scott and others.

Currently, licensing provides some 8% of revenues — but a significantly greater portion of after-tax earnings. That's pretty normal for a US-centric content company at our stage of development.

But software companies such as search engines can easily make 50% of their revenue overseas. As our language-independent discussion technology platform becomes more important, so will the international business.

As some of you know, we are expanding beyond our existing partnerships in Europe, Japan, Brazil and Australia. Our embryonic relationships in the Middle East, China and India will require much more cultivation — and the bulk of Gaby's focus.

To take on responsibility for people development, finance, facilities and legal, Scott Kidder is moving back into the Operations department. Like Ray and Erin, he is on the operating committee.

Scott will retain responsibility for payroll and other editorial HR duties. And he is leading the effort to establish an editorial back office in Budapest. But above all Scott intends to revamp employee training and development — across both editorial and other departments.

Helping Scott with office operations: Julia Alvidrez, newly promoted to Operations Manager. Julia will in particular oversee any reconfiguration of the office and real-estate searches.

We are examining a move of Operations upstairs to the Fourth Floor — and an expansion of the area given up to Technology to accommodate new hires for the development of the discussion platform. It remains our goal though to move to a larger premises with a full through-floor so all departments can be back within sight (or spitting distance) of each other.

Taking over other editorial operations: Lauren Bertolini, whom most of you know as our social media manager. Lauren's primary focus will be community development: encouraging editorial participation in discussions; the sharing of those discussions on social networks such as Facebook; and the recruitment of outside contributors to our platform.

That's a sign of the future: most new jobs at the company will be tied to the discussion platform.

Event management will move over to Ray's group within sales — and with that function, Julia Schweizer. Editors will still be expected to drive events for their sites, putting their contacts and status to work for the benefit of the titles. But it makes sense to consolidate the organization of those events and give sales full awareness of sponsorship opportunities that might arise even from editorially driven events.

All these changes take effect on June 1. And that should be that for a little while!

Nick