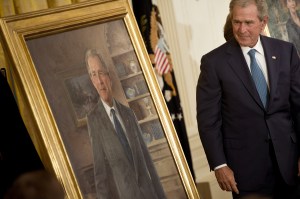 Former President George W. Bush returned to the White House today for the unveiling of his official portrait. At the ceremony, Mr. Bush encouraged First Lady Michelle Obama to protect his portrait and gave some advice to President Barack Obama.
"When the British burned the White House … in 1814, Dolley Madison famously saved this portrait of the first George W.  Now, Michelle, if anything happens there's your man," Mr. Bush said. "I am also pleased, Mr. President, that when you are wandering these halls as you wrestle with tough decisions, you will now be able to gaze at this portrait and ask, what would George do?"
President Obama also spoke at the unveiling ceremony. In his remarks, he thanked Mr. Bush for his leadership, particularly in the aftermath of the September 11th attacks, and for assisting with the presidential transition.
"On a personal note, Michelle and I are grateful to the entire Bush family for their guidance and their example during our own transition," said President Obama. "George, I will always remember the gathering you hosted for all the living former Presidents before I took office, your kind words of encouragement.  Plus, you also left me a really good TV sports package. I use it."
The ceremony was also attended by Mr. Bush's wife, Laura, his father, former President George Bush Sr. and his wife, Barbara Bush, and Mr. Bush's erstwhile senior advisor, Karl Rove. Laura Bush also made a speech at the event after  brief introduction by her husband.
"It is my privilege to introduce the greatest First Lady ever — sorry, Mom," he joked. "Would you agree to a tie?"
.