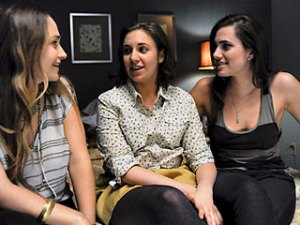 Shooting for the second season of HBO's generation-defining half-hour-of-power dramedy, Girls—brought to you by an all-star team including the loins of David Mamet, Brian Williams, Laurie Simmons, and Caroll Dunham—is underway. Hooray for everyone!
Now that all the discussions have been had about how diverse (or not) or authentic (or not) the show is (or is not) have been had, we can get on to the pressing matter of portraying the lives of Young Hip Brooklynites with more authenticity and diversity (and authentic diversity) than ever! Or so a casting notice for the second season would have us believe.
From an official Girls casting notice posted to Backstage.com, we now know what "hipster" typecasting looks like:
Seeking—Hipster Types: male and female, 18-30s, all ethnicities, all types, specifically seeking people with tattoos, piercings, colored hair, and unique looks. Young Adult (ages 18-29), Thirties (ages 30-39). Caucasian/White, African-American/Black, Latin/Hispanic/South American, Asian, Native American, European, Middle Eastern, Indian/South Asian, Other.
And no, there's no nudity. So you can't do that. But hey, they're trying to cast diverse..ly. Is this what they call "progress"? That said, we can still fairly accuse the show of slighting Aborigines.
Regardless: Tatted-up "unique looking" Billyburg stage players, your time has come. This is basically Hipster Idol, and your best nonchalance face is about to be put to the test. Only the strong will survive long enough to pretend to have a conversation at some backlit table in a distant corner of Bar Matchless so you may call Mom and Dad in Council Bluffs, and breathlessly let them know: It's not just you that made it.
We all made it. All of us.
fkamer@observer.com | @weareyourfek