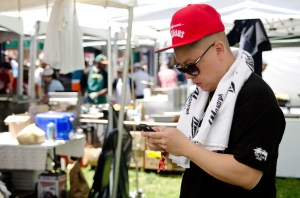 May 19, 2:30pm. Prospect Park, Brooklyn. It was hot and humid, and we smelled like chicken grease. This was to be the day food stepped out of the shadows of the Style section and took its rightful place among movies, fashion, and of course, music. But along the way, something went wrong. The Baohaus booth had already sold 1000 orders of bao, but the line was still at least 50 deep. It looked like we had an hour of sauce left, but without cell phone reception, we couldn't reach our reinforcements on 14th St. We'd all been in the weeds before, staring at a line of tickets on the speed rail, but this was a flaming, sinking, Everglades swamp no one was getting out of…
The Great GoogaMooga was the brainchild of Superfly Productions, the New York–based events and marketing company behind Bonaroo. Every one from Zach Brooks to The New York Times had declared chefs the new rock stars so why not? The formula would be simple. Invade a park, book some bands, invite some celebrity chefs, count your money…right?
But they made one big mistake. They did it in Brooklyn.
If I was going to start a new venture, Brooklyn would be the last place I'd go. Brooklyn hates things just to fall in love just to hate them all over again. There was no way a food festival could make Brooklyn happy. Before the first fully compostable plate was served up, you had A.O. Scott of the Times screaming "Get off my lawn!" on Twitter. And what was his argument? The usual anti-gentrification-except-for-me defense of utopian white yuppie Brooklyn. Mr. Scott, if you truly love Brooklyn, you'll call for a one child policy, because papusas and The Roots are not the problem. The problem is the crying, pissing, shitting parade of babies taking Brooklyn over.
As a participant at GoogaMooga, I stand behind the product. Superfly picked some big names, some small names, and some names we still can't pronounce—the main requirement being that they're authentic. No one was allowed to come weak with cold half-sized passed items. Every restaurant was asked to bring their best and make it a full serving.
And then, after months of careful preparation, hyperbolic subway advertising featuring Big Gay Ice Cream and yours truly, suddenly it was show time—ready or not (and in most cases, not).
We followed our lessons of war all week. Wednesday was naming of parts, Thursday was fabricating those parts, Friday was transporting those parts, and Saturday was serving those parts. Saturday arrived and we cruised from 11am to 1pm. There were modest lines, but food was plentiful and we couldn't have prayed for better weather.
Then it happened. Like a monsoon of uncontrollable soul burning diarrhea, the foodies descended upon us. We knew the fuckers were coming, but none of us had ever seen it on this scale. By 1pm it became clear that most of us would run out of food before the day was up. It happens at every festival, but this was an avalanche. We frantically called our restaurants, rallied our staffs, and radioed for reinforcements as barbarians stormed the gate frothing at the mouth for horse meat bologna and foie gras. Blackberries became more valuable than shark's fin as everyone's iPhones failed.
Around 3 pm we finally got a call through to Baohaus. Mitch, my head chef, picked up and was informed that we needed five gallons of scratch General Loko sauce, six cases of chicken thighs fabricated and ten quarts of chopped cilantro no later than 5 pm. It was an insane ask— deliver two days of prep in two hours to Prospect Park—but they came close. At 6pm, we informed a line of 35 people who'd been waiting two hours for baos that they would finally be served. By the time The Roots went on, it was a 700 level course in irony as things literally fell apart.
I don't know what rock stars do when things fall apart, but cooks put them back together again. GoogaMooga took a beating Saturday, but as a village, we never threw in the towel. As the last of the ravenous hordes dragged their asses out of the park, we all packed up our shit, licked our wounds, and headed back to the basements of our respective restaurants to prep for Sunday. We borrowed proteins, produce, and any live bodies other restaurants could spare. Half the staff at Dirt Candy came to our rescue, picking up Googamooga shifts for Sunday, while other restaurants used Twitter to make an open call for able hands.
This town competes to see who can be the first to announce the death of things. Food culture came under attack this week. We weathered another horrible Food Network Star season premiere, Gawker called out the town's foodies for jumping the shark, and then we witnessed the death of 'Mooga, only to resurrect it on Sunday. It's easy to talk about "rock stars," but it's another thing altogether to stare down a park of 35,000 people and perform.
Saturday, we pissed our pants, but Sunday we arrived.