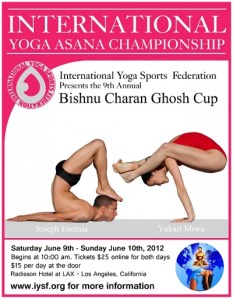 Because really, who doesn't want a hedge fund manager who's both meditative and viciously competitive, and isn't that why everyone from Ray Dalio to Process Driven Trading's Peter Muller to Paul Tudor Jones is always touting their love for transcendental meditation or the new yoga studio they just opened in Greenwich. And to which end, we'd like to share the following advert with Cliff Asness, the AQR Capital founder who seems unaware of the awe-inducing (read: nauseating) activity known as competitive yoga.
From this morning's Wall Street Journal story on quant-fund OG Robert Jones:
And like quant giant Ray Dalio of mega-hedge fund Bridgewater Associates, Mr. Jones is also a devoted practitioner of transcendental meditation. Now that he has his own firm, he'll promote "TM" among his employees, and fellow quants.

"'This would be good for you,' he told me. He knows I'm kind of tightly wound," says Mr. Asness, who's known for tantrums involving smashed computer screens, and who says he would consider meditation if it could be done competitively, like investing.