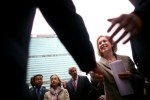 A Siena poll out this morning had some good news /bad news for Sen. Kirsten Gillibrand.
The first-term senator led her three possible Republican opponents by 34 points even as her favorability ratings dipped below 50 percent again.  Seventy-to-eighty percent of Republicans had now opinion of either Wendy Long, Bob Turner or George Maragos, while 54 percent of respondents think she should be re-elected, four points off her highest marks.
But these poll results have encouraged the GOP to take aim at Sen. Gillibrand, even if at somewhat cross-purposes.
First out this morning was Mr. Turner, a Queens and Brooklyn Congressman who accused Ms. Gillibrand of "going silent" on the major issues facing the state.
Kirsten Gillibrand has a shameless penchant for staying silent about serious issues affecting New Yorkers, the Turner campaign today charged, citing the latest three examples: the federal government's failure to designate funding toward the replacement of the Tappan Zee Bridge; HUD's federal government overreach in a Westchester housing settlement and the politically-motivated attacks on the NYPD's surveillance and stop-and-frisk policies designed to keep New Yorkers safe.

"Kirsten Gillibrand has demonstrated she is devoid of the leadership qualities necessary in any U.S. Senator, especially one from New York during these difficult times," said Jessica Proud, spokeswoman for the Turner campaign. "You would never in a million years hear Hillary Clinton talking about book clubs or a 'worldwide day of play,' yet these are the trivial subjects Ms. Gillibrand cares to discuss. When the going gets tough and New Yorker's safety and individual rights are being tested, she goes silent."
The attacks were in reference to the federal government's decision to deny the state's request for a $2 billion transportation loan to help finance the rebuilding of the Tappan Zee Bridge, the fact that Ms. Gillibrand "stood silent" while New York City's Congressional Democrats attempt to rebuke the NYPD's Muslim surveillance practices, and what the Turner camp called her "deafening silence" over the federal department of Housing and Urban Development's attempt to desegregate parts of Westchester County. 
Later, the state Republican Party came out with their own hit on Ms. Gillibrand, although to hear them tell it, the problem was that she was silent but that she is "all-talk."
Kirsten Gillibrand is embarking on yet another disingenuous campaign swing through Upstate New York, while she continues to provide a reliable vote for the Obama-Reid failed economic policies that are preventing private sector growth and job creation across the struggling region.

Her phony 'Upstate Works Act' is nothing more than political fodder to be hyped and peddled during her campaign swings-evidenced by the fact that it was introduced with no co-sponsors and has a zero percent chance of passing the senate, according to the non-partisan site govtrack.us.

Senator Gillibrand has demonstrated time and again that she lacks the leadership expected of a United States Senator and this latest vanity tour is sadly another example of that. If she was really concerned with bringing jobs to Upstate, she'd be voting to advance the Keystone pipeline, repeal Obamacare and reverse the burdensome regulation and high taxes that are killing small businesses.

New Yorkers are tired of her act and this November, they'll show her the door.
Finally, Ms. Long piled on, although she didn't weigh in on the strength or quality of Ms. Gillibrand's speaking ability, but rather parsed the Sienna poll to find some good news for her campaign.
"With New Yorkers moving backward economically, Senator Gillibrand is bearing the brunt of voters concern and her campaign is stuck in neutral. Despite her efforts, 25 percent of New Yorkers continue to remain on the sidelines and we expect that as voters get to know her cynical brand of politics, constantly putting her own personal agenda ahead of their own, they will reject her by wide margins." said campaign adviser David Catalfamo. "It's obvious. Kirsten Gillibrand is vulnerable  and can be defeated by the right candidate."