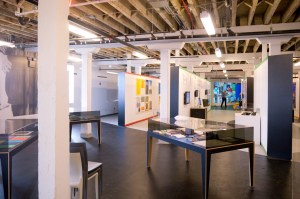 "If you stand in front of a poster, it will enlarge," graphic designer Dan Powers, a tall calm brown-haired man, told Gallerist. Following Mr. Powers's advice, we stood in front of a large screen of images that were flying around, shrinking and enlarging. It was an installation called Poster Wall for the 21st Century, by Dutch design collective LUST. But rather than being pinned to a wall, torn and fading, these posters were digital collages that were created by an automatic generative process—one per minute and each one assembled from text, photos and content sourced from websites, blogs and Twitter feeds. Standing in front of it felt a little like being in Times Square, except that we were kind of in control of the images. Because the wall had "gesture tracking," a poster would enlarge when you moved close to it and would disappear with a wave of your hand.
This was all the more surreal because we were standing on Governors Island, after a 10-minute ferry ride from downtown Manhattan. The Smithsonian's Cooper-Hewitt National Design Museum and Minneapolis's Walker Art Center have installed an exhibition there called "Graphic Design—Now in Production" in one of the first buildings you see as you hop off the ferry onto the former military base, which is today used for jam-packed food festivals and concerts.
"Now in Production" explores innovations in graphic design over the past 15 years in books, posters, magazines, digital interfaces and more. As its title suggests, it is a process-oriented show, where you can not only see how graphic design has evolved since 2000, but see how the means of production have been placed in all of our hands. You can design a poster at a computer terminal and print it out on the spot. You can watch graphics being generated on a large screen from the closed-caption stream of a small monitor playing live television. Then there are vitrines upon vitrines of books, zines and pretty objects produced using traditional print mechanisms in novel ways, but these feel like pretty mausoleums when compared with the flashing screens and printers churning out your latest design.
Though the works in the show are sleek and pristine, digital to a fault, it's sited in a raw space that itself had to undergo a remediation process to bring this 8,000 square feet of raw material up to museum standards, an undertaking handled by the New York design firm Project Projects with Leong Leong Architects. The design extends to the hallway, where a sample of each section of the exhibition is on view and visitors to the island's only public bathroom can get a teaser of the show. "Every single person who comes to use the bathroom on Governors Island will have some idea of what contemporary graphic design is," said Prem Krishnamurthy, a founding principal of Project Projects.
It's wonderfully chic: Chelsea-ready white walls cut the gallery into distinct corridors organized by themes such as "posters," "information design," "branding," "typography" and "storefront," the last of which looks at not only the design of packaging but the products conceived by graphic designers.
"This is all six editions of Darwin's On the Origin of the Species," said Ellen Lupton, senior curator of contemporary design at the Cooper-Hewitt. She was standing before a wall display of the scientist's book, printed out in its entirety in narrow columns in various colors in tiny print. The different colors represented the additions that Darwin made with each new edition of his masterwork. At a nearby computer terminal, you can scroll more easily through the text and read the additions. We scrolled over several columns in green and read the line: With such structures as the above lamellae of horn or whale-bone, habit or use can have done little or nothing, as far as we can judge, toward their development.
"Now we accept the idea that a book is changing," said Ms. Lupton. "But this was even true in the 19th century. A text was not a single stable object."
We walked over a yellow "speed ramp" on the floor, what looked like an artful design solution to some problem with the raw space—the protruding roots of an old tree?—and over to a room at the back, which was outfitted with a campaign for a fictional government called "Facestate." Slick advertisements and billboards for imagined social media platforms of the future that would allow you to conduct surveillance of your friends or gain financial credit simply by connecting with friends. The campaign is a research project by Amsterdam-based design collective Metahaven about how social media and the government interact and how they might one day become the same thing.
"Things that are now part of an unofficial, unadministered economy of favors might become more centrally administered," said Daniel van der Velden, one of the two designers, looking up at an ad for something called the "Mobile Social Wallet." He, and his design partner Vinca Kruk, walked us around their sleek black, grey and white laboratory of minimal design specimens, stopping from time to time to allow us to absorb this sliver of the future. "Social interactions, through social platforms, will become carriers of financial value."
"This is a voluntary way for you to survey your friends," said Ms. Kruk, looking up at an ironic advertisement for a fictional social media site.
"It's like Foursquare," we said.
"Yes," said Mr. van der Velden, and paused. "A darker Foursquare."
Leaving the future behind, we returned to the main room and passed through a corridor with death metal logos, a video composed of submissions crowd-sourced from 34,000 users, and a vitrine with a wooden chair made from pieces that when disassembled can be arranged to spell "C-H-A-I-R" and wound up back at the posterwall.
"You can create your own," said Mr. Powers. He showed us how to send an image via Twitter so that it generated a poster and appeared on the wall. We tweeted an image of the Andy Monument that we had in our phone and minutes later it was on the wall, along with our tweet: "Making posters w Warhol @posterwall at Graphic Design show in Governors Island pic.twitter.com/L1ieHOUG."