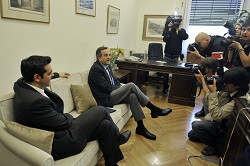 What with British bookmaker William Hill suspending betting on the dissolution of the eurozone, as last weekend's election called existing austerity agreements into question:
"We have decided to take down these markets until the situation calms down a little," spokesman Graham Sharpe said in an e-mail.
The odds as they last stood:
First country to leave the eurozone: Greece, 1 to 4; Italy, 5 to 1; Portugal, 10 to 1; Spain, 12 to 1; Germany 12 to 1; Ireland, 16 to 1; France, 20 to 1.
Will the euro still be in existence on December 31, 2015? Yes, 4 to 6; No, 11 to 10.