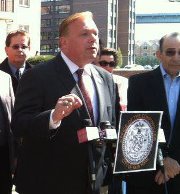 Councilman Dan Halloran, a Republican congressional candidate in northeastern Queens who will be undergoing serious surgery later this week, rather bluntly answered the question as to which of his potential Democratic opponents would be the most formidable challenger in the general election last Friday.
"All three of the major Democrats running, says Halloran, are in-line Obama Democrats," he told the Jewish political blog Gestetner Updates. "They have not bumped their party. They have followed down the line on all the issues that are important to the Communities."
Although he had broad criticism for all of his potential Democratic opponents, Mr. Halloran specifically cited Assemblyman Rory Lancman as the hardest to defeat.
"I have to assume Assemblyman Lancman will be a very tough opponent," he explained. "Rory has a good service record in terms of constituents work. He like I has worn the uniform; I know Rory served in the military, in the infantry and he has a strong Jewish background."
Mr. Halloran, who subscribes to a religion commonly referred to as "neopaganism," went on to question whether Mr. Lancman's political positions line up with his own Jewish beliefs.
"Unfortunately his voting record does not match his personal commitment to his faith," he said. "He was on the opposite side of gay marriage; opposite side of abortion; and the opposite side on the issues of school vouchers, and tax credits and incentives for those who use private schools to educate our young children."
Mr. Lancman is competing against Councilwoman Elizabeth Crowley and Assemblywoman Grace Meng in the district's June 26th Democratic primary. Although it's a fairly Democratic seat, Mr. Lancman undoubtedly appreciates being referred to as the strongest candidate to keep the seat in Democratic hands.