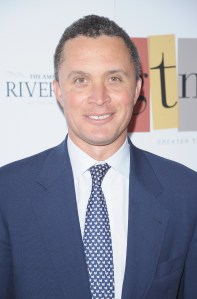 Former Tennessee Congressman and Senate candidate Harold Ford Jr. said Newark Mayor Cory Booker should have stuck by his comments that the Obama campaign's attacks on Mitt Romney's tenure at Bain Capital are "nauseating" in an appearance on MSNBC's Morning Joe this morning.
"I would not have backed off the comments if I were Mayor Booker. The substance of his comments on Meet the Press, I agree with the core of it," Mr. Ford said. "I would not have backed them out … private equity's not a bad thing. As a matter of fact, private equity is a good thing in many, many instances."
Mr. Booker, who is a campaign surrogate for President Barack Obama, criticized the campaign's repeated assault on Bain during an interview on NBC's Meet The Press Sunday morning.
"This kind of stuff is nauseating to me on both sides. … I'm not about to sit here and indict private equity," Mr. Booker said. "If you look at the totality of Bain Capital's record, they've done a lot to support businesses–to grow businesses. And this to me, I'm very uncomfortable."
He quickly clarified his comments by posting a nearly four minute video on his YouTube page explaining his distaste for negative campaigning on both sides.
"I made it clear on Meet The Press this morning how I believe President Barack Obama has done such a strong job as a leader of our nation that he more than deserves re-election," Mr. Booker said. "I also expressed on Meet The Press my profound frustration with the kind of campaigning that I think has become too much of the norm in our nation, which is generally negative campaigning. And this campaigning is about to become an avalanche and, in many ways, I believe could potentially risk muting out important voices of the candidates themselves talking about issues that matter."
Mr. Booker also express his dismay at the growing presence of Super PAC money in the campaign that he said has "been wholly negative." He also singled out the plans to attack President Obama for his association with Rev. Jeremiah Wright that emerged last week.
"I was very frustrated this past week when I saw people dredging up the Rev. Wright, an already discussed issue from many, many years ago and trying to bring it to the center stage as a way to undermine and attack our president," Mr. Booker said.
Though he stood by his use of the word "nauseating" to characterize negative campaigning, Mr. Booker also said Mitt Romney's business career is a legitimate issue to discuss.
"I used the word 'nauseating' on Meet The Press because that's really how I feel when I see people in my city struggling with real issues and still feeling the challenges of this economy, still looking for hope, and opportunity and real specific plans," he said. "Let me be clear, Mitt Romney has made his business record a centerpiece of his campaign … Therefore, it is reasonable and, in fact, I encourage it, for the Obama campaign to examine that record and to discuss it."
Mr. Booker also accused Mr. Romney of "not being completely honest" about his business record. The Obama campaign subsequently released an edited 30 second clip of Mr. Booker's video that RNC spokesman Tim Miller described to Politico as "orchestrated."