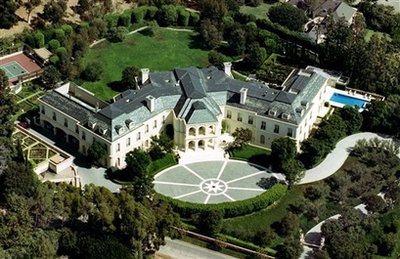 Although they once dabbled in typical heiress hobbies like launching fashion lines, modeling and appearing on reality TV shows, the Ecclestone sisters have now turned their attention to more mature projects—buying up ultra luxury homes, the Wall Street Journal reports.
Tamara, 27, and Petra, 23, are dipping into the family fortune built by their dad, Formula 1 boss Bernie Ecclestone, to play the big girl version of Barbie dream house.
The sisters have gone on a real estate shopping spree during the last year, with Tamara picking up a $70 million brick home across the road from Kensington Palace and Petra, who is now Petra Stunt, buying the $85 million home of late TV-producer Aaron Spelling (it has 27 bathrooms!).
Both properties underwent major renovations to suit the tastes of the fashion plate sisters, but the women insist that these are no trophy properties. These are investments.
"I'm definitely, 'Go big or go home,'" Ms. Ecclestone told The Journal, displaying courage in the face of much adversity.
We couldn't help but wonder, is Ms. Ecclestone the mystery buyer behind the $90 million purchase at One57? She could dictate all the custom finishes as the condo is completed, rather than going through the harrowing renovation process.
Ms. Ecclestone's guiding real estate philosophy is to buy "the best property I could find," she said in her interview with the paper. "I think London [property] is a really good investment. There's no bank in the world that can give you that return."
Brokers generally agree with that the elder Ecclestone's property will fetch a good price when it next hits market, but have more doubts about the palatial spread of her younger sister.
"She would probably need to get a $100 million offer on the home just to break even," luxury broker Stephen Shapiro told The Journal. "And there aren't too many buyers looking in that range in L.A.… so far, she's the only one."
Their father seems resigned to his daughters spending habits, although not altogether realistic about their future financial independence. By giving them money now, he tells The Journal, "they will want to be independent and make their own money as they spend it."
kvelsey@observer.com