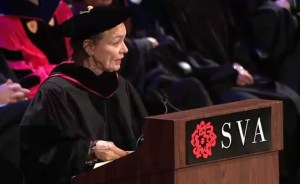 It's Memorial Day so you really should be outside, but if you do have to be inside, you should watch this video of Laurie Anderson giving the commencement address at the School of Visual Arts earlier this month.
Ms. Anderson, charming as always, discusses being the last artist in residence at NASA.
Thanks to Boingboing for the tip!
[youtube http://www.youtube.com/watch?v=zthU59YvuqY&w=560&h=315%5D