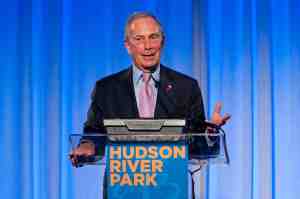 A note to our colleagues: Now may be a good time to stop sleeping in the office. Mayor Michael Bloomberg had The Observer on his mind yesterday at the Friends of the Hudson River Park's sping gala, reminding partygoers that FOHRP board chair Douglas Durst ranked fifth on The Commercial Observer's Real Estate Power 100, five spots ahead of hizzoner. "Look out for a visit from the city's building inspectors," he quipped, a friend tells us.
Mr. Bloomberg—his girlfriend Diana Taylor chairs the board of the Hudson River Park Trust—was on hand at Pier 26 to present Highbridge Capital co-founder Glenn Dubin with the FOHRP's Leadership in Community Enrichment award. It was no mere pit-stop on the evening agenda—Mr. Bloomberg stayed through dinner (goat cheese panna cotta and seared arctic char from Union Square Catering) and chatted with guests (who included Christy Turlington, Ed Burns and former-Gov. George Pataki).
Teen-aged children mean Mr. Dubin—who grew up in Washington Heights and frequented Fort Tryon Park as a boy—is spending less time at his country house these days, he told guests, and more time in the park. Though Mr. Dubin seemed partial to venerable Central Park, his track record as a philanthropist—Mr. Dubin was a founding board member of the Robin Hood Foundation, and more recently, the Eva and Glenn Dubin Breast Care Center at Mt. Sinai Hospital—and environmentalist instincts made him an apt honoree.
"You're looking for someone who can raise money, yes, but also someone whose ethos matches what the organization is trying to accomplish," said Michael Novogratz, a principal at Fortress Investment Group and Hudson River Park Trust board member. Mr. Dubin's stature on Wall Street helped bring fresh faces to the sold-out event, said FOHRP executive director A.J. Pietrantone, and the organization treated guests to cameos by park users. Intrepid members of New York Kayak Water Polo staged an exhibition off Pier 26 during the cocktail hour, and CBS This Morning co-anchor Gayle King—who hosted the festivities—was escorted onto the stage by a parade of dog-walkers. Mr. Durst entered by bicycle. "We wanted to give our guests the sense of fun and exploration that's at the heart of what Hudson River Park is all about," Mr. Pietrantone said.
The event raised $1.6 million towards the park's operating fund. Guests gossiped that a generous donor had made a $50 million pledge, but Mr. Pietrantone said that the organization hadn't received a gift at that level.