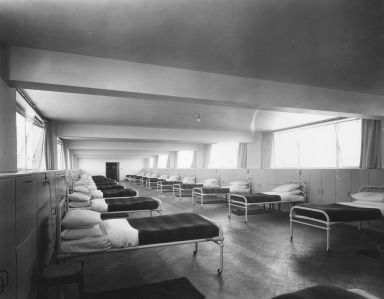 When Michelle, a writer working on a first novel, tells people her husband, Daniel, is a hedge fund manager, they often remark, "Oh, honey, you did well." And she did. The recently married pair live in a large dazzling loft in Dumbo. They currently rent, though they've started looking at places to buy and are getting serious about a second home upstate.
But Michelle and Daniel's living situation was dealt a serious blow by the economy when Hannah, Michelle's friend from Columbia, found herself without a job or home. The couple gave her a place to crash, and Daniel found he had to navigate a new morning routine. He was careful to get dressed in the bedroom before venturing out to make coffee, and he learned to keep especially quiet as he pored over the Wall Street Journal and the Times before work, so as not to wake Hannah, dozing on the guest bed in the corner.
Thanks to stagnant employment rates and rising rent prices, such situations appear to be increasingly common. Browsing Craigslist for single-room listings that include the phrase "we are a couple" brings up 131 posts from the week of April 30–May 7 alone. Stephanie Diamond, founder of The Listings Project, an email resource for renters in New York City, says she's also seen a rise in couples seeking roommates. So has Jonathan Miller, the president and CEO of Miller Samuel Inc., a real estate consulting firm. "More people are sharing rents—doubling up—whether with family or roommates," he said.
Remember the new book Going Solo: The Extraordinary Rise and Surprising Appeal of Living Alone by NYU sociology professor Eric Klinenberg? Forget it. Mr. Miller calls the whole idea "bizarre," pointing out that housing formation has lately fallen—which means that more people are actually living together.
Amy and Liz, a couple who live on the upper floor of a Park Slope brownstone, met on a yoga retreat, and they enjoy therapy and cooking (Amy is a former macrobiotic chef). They have been using Craigslist to find roommates, seeking applicants who favor their lefty politics and crunchy lifestyle. But first impressions can be so deceiving. Their last roommate seemed cool, but stocked their fridge with flavored Miracle Whip and prepackaged vegetables. (In general, they avoid anything with more than 20 ingredients, especially "natural flavoring").
This time around, the search hasn't been easy. One woman they recently showed the place to just came in and wandered around the apartment wordlessly. "We couldn't hear what she was saying. Her mouth was moving but nothing was coming out," Liz recalled. Another woman, upon hearing that Liz was a musician and Amy a dancer, opined, "I don't understand music. I mean, what is the point?"
Diana and Pete both work from home, an airy loft in the Bowery. She is an acclaimed fashion and art photographer from Germany, and he is a musician from England. But those gigs don't always cover the rent, so they've converted the loft into several rooms.
Pete and Diana's one rule is, "don't bring the party back." Ben, their last renter, was in his 20s. He was very charming in the interview, assuring them he was not the partying type. "On the first night he was so drunk he could barely climb up the stairs," Diana recalled. Another night she heard a clattering and found Ben at the bottom of the stairwell, black-out drunk, trousers crumpled at his feet. She helped him to the lofted bed but a few moments later heard a crash. "He was on the floor, wailing 'Mommy! Mommy!'" Diana said, rolling her eyes. "We're child-free for a reason," Pete noted meaningfully.
Pete might have been more comfortable in northern Brooklyn, where group housing is increasingly common. Ereka and Dirby, a couple in their early 20s, live in an artsy loft in Bushwick with five roommates. "We have seven people to one bathroom," Ereka said, noting that that means sometimes peeing on the roof and occasionally streaking in her own home. "I sleep naked so if I wake up in the middle of the night, sometimes I just go for it and run to the bathroom," she said. "But I've been caught by roommates. I'm just like, acchhh!" She let out a squeal, covering herself with her hands.
Pete and Diana recalled a previous living situation with a female friend who partied heavily and occasionally hosted "all-lesbian orgies," as Diana put it. "We would wake up in the morning and there would be 10 women sprawled on the floor," she recalled. "Once, in the middle of the night one of them jumped into our bed."
Despite the occasional awkwardness, several couples noted that there were positive aspects to having a roommate. A few of Diana and Pete's boarders helped Pete practice his German or French over breakfast. Other roommates became interns. "Having other people around, there are new ideas all the time," Pete said. "It helps creatively."
According to Stephanie Coontz, author of Marriage, a History, such arrangements might actually enhance a couple's relationship. "One of the two major sources of happiness people report is socializing with other people for dinner," she said.
For Michelle and Daniel, nightly dinners with Hannah shook up their routine. "It is like being at a cocktail party—you see your partner through someone else's eyes," Michelle said. While she and Daniel spend a lot of time together, they rarely spoke deeply about life. "We are more cynical, you know, typical New Yorkers," she said. "But Hannah is earnest. She is a classic artist in the sense that she is always asking these big questions, like 'What is happiness?'" As a result, Michelle ended up having existential debates with Daniel that she would have felt silly initiating herself.
"It was really fun," he agreed. "It sort of made us feel more established as a couple too, giving her advice."