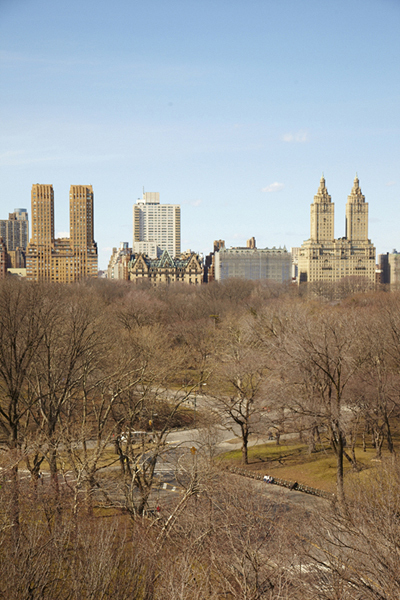 The two apartments spanning the eighth floor of 907 Fifth Avenue will retain their lost-in-time, Butterfield 8 style for a little while longer. A bid on reclusive copper heiress Huguette Clark's neighboring co-ops was rejected by the board.
A single buyer had planned to combine 8W and 8E, creating a massive full-floor apartment that would have been one of largest floor-through homes on the park, a source familiar with the deal said, but the co-op board nixed the plan to combine the units.
The apartments were reportedly in contract for close to their $19 million and $12 million asking prices, but the board reportedly felt that the two apartments, which had never been combined, should remain individual units. The rebuffed buyer is said to be Qatari prime minister, Sheikh Hamad bin Jassim bin Jaber Al Thani, reports MSNBC.com.
Clark, who died in May 2011 at age 104, owned the penthouse at 907 Fifth Avenue, which is currently in contract (reportedly for close to the $24 million ask) and the two 8th-floor apartments. But Clark hadn't lived in the penthouse apartment for decades, preferring to spend her time in a hospital suite where her mysterious, imaginary ailments could be best attended to. All three apartments are listed with Brown Harris Stevens brokers Mary Rutherfurd and Leslie Coleman.
Besides the buyer who made the bids, a handful of other buyers were also interested in combining the two apartments, said an insider.
It's easy to imagine why: the two apartments have a total of 22 rooms (see floor plans bel0w). Not that much of the original layout is expected to stay, as the apartments have been sparingly updated since Clark purchased them in the 1920s. Combined, the two would have been a knock-out, with 8W offering 9 enormous windows looking out over 100 feet of Fifth Avenue frontage right above Central Park's treeline. And while it lacks park views, several brokers have said that 8E is the more charming of the two, with a windowed gallery, a 29-foot cornered living room and herringbone wood floors.
"A full-floor large space running Fifth Avenue is a hot commodity," said real estate appraisal guru Jonathan Miller.
Mr. Miller said that he was surprised to hear that the board had rejected a combined apartment. It would have raised prices for all the shareholders in the c0-op because of what he calls the 1 +1 = 2.5 phenomenon—combined apartments almost always sell for more per square-foot than the original apartments would have, and the value-add comes even before the adjoining apartments are renovated.
"The turndown doesn't make any sense to me financially," said Mr. Miller. "It seems awfully simplistic. I've never  heard of a board turning down a combination in a building with full floors."
Mr. Miller said that the only possible downside he could see for a co-op board would be fewer shareholders in the building, and thus more exposure if an owner wasn't paying maintenance. Although, he added, this probably wouldn't be an issue for someone who could buy $31 million worth of space and also prove finance a major renovation.
In any event, the apartments are on the market once again, asking $19 million and $12 million. The apartments are being sold by the New York County public administrator, who is managing the estate after Clark died leaving no direct heirs and a fortune of $400 million. Her distant relatives have sued, alleging that her old attorney and accountant mishandled her fortune.
kvelsey@observer.com