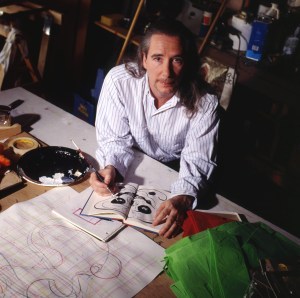 Last fall, a few months before he killed himself at the age of 57, the Los Angeles-based artist Mike Kelley signed off on the final plans for a project called Mobile Homestead, a full-size replica of his childhood home in the Westland area of metro Detroit. He intended to place the replica in downtown Detroit, where it would be used as a community center, providing services ranging from haircuts to block parties. The house would have a two-level basement, closed to the public, conceived as an underground studio where he would make his art—a secret lair and such a natural extension of his overall artistic project that it seems like some kind of joke (it is tempting to think of it as a real-life "Fortress of Solitude," Superman's hideout, which Kelley constructed in three-dimensional form and used as the central image in his final solo exhibition last September at the Gagosian Gallery in London).
Mobile Homestead was put on hold after Kelley's suicide, but the Museum of Contemporary Art Detroit (MOCAD) announced recently that it will be completed later this year and is expected to open in early 2013. When it does, it not only will stand as a monument to Kelley's artistic legacy, but will also serve as an eerie reminder of his early passing: now that he's gone, that underground studio will have to be used by other artists.
Last weekend, as a kind of grand finale to the Whitney Biennial, which, after his death, was dedicated to Kelley, the Whitney Museum screened three videos in which Kelley documented Mobile Homestead in its earliest stages. In 2010, he fabricated the facade of the home in Westland, modifying it so that it was street-legal, and then had it towed behind a semi truck that drove around the city as a kind of mobile social services office. He had planned a maiden voyage in which the truck would depart from a dedication ceremony in front of MOCAD on Woodward Avenue, head west for 16 miles on Michigan Avenue to the site where Kelley's childhood home still stands, and then drive back again. Kelley approved the final cuts of the Mobile Homestead videos mere days before his death. Taken together, the work, which is mostly made up of short interviews with Detroit residents, is Kelley at his most straightforward. It is difficult not to read his suicide into it: the footage of the house he grew up in driving around and helping the residents of a city he left long ago has become an accidental autobiographical endnote of sorts. But it is also a brilliant document of life in the Midwest, with all its triumphs and sorrows.
The first video opens at the dedication ceremony in September 2010. On a gray afternoon, a sparse crowd has formed in front of the street-legal replica of the house. Kelley himself stands awkwardly among the onlookers, dressed head to toe in black; he faces away from the camera, revealing a large bald spot on the back of his head. People make speeches—the poet John Sinclair reads about "the desolation that spread throughout the city but stopped at the city limits"; David Byrne meanders around in an all-white track suit, looking a little like he just stumbled in off the street; a band sets up on a stage. Then Kelley smashes a bottle of champagne on the truck's trailer and yells, "I christen thee Mobile Homestead!" From there, the house is on the move, making various stops along the way. That footage is presented alongside the bands playing back at the dedication ceremony. The video leads the viewer to believe these things are going on simultaneously; only at the end is it revealed that the maiden voyage to the old house and back didn't happen that day—the truck hugged a curb too tight turning on Michigan Avenue from Woodward and blew its back tires. It barely even made it a mile.
Documentary was never Kelley's medium of choice, and this work is not his strongest foray into video—the transitions are clunky and the scenes of the house rolling down the street, set to the tune of a contrived rock & roll guitar melody, feel monotonous. His strength, though, is how he steps aside and lets the awkward sadness of the Midwest speak for itself. In the ceremony celebrating his project, he cuts to an image of John Sinclair reading a newspaper in the audience during soul singer Melvin Davis's onstage exhortation to "Come on people, participate!"; he films four young black girls giggling at an Irish fiddler whose youngest son is backing him up, also on fiddle, and botching almost every note; his camera angles call attention to the event's relatively paltry attendance—only about 300 people cycled in and out over the course of the whole day—rather than cover it up. His deferral of the fact that the truck towing the house broke down about a minute into its pilgrimage back to Westland only strengthens the first video's final image—the truck struggles to pull over because the artist's work is literally too much to manage; it's as good a metaphor as Kelley could have dreamed up deliberately.
The second and third Mobile Homestead videos are made up of Kelley's interviews with people who live and work on Michigan Avenue. The interviews were conducted over the course of several months, but they are edited together so that their total running time is about as long as it takes to drive from Detroit to Westland and back. He visits John Debozy, a retired barber and the current owner of Kelley's old house. He bought the place in 1980 after his wife left him. "I got a good buy on it," he says. "And I always liked it because I lived two blocks away from home when I was a youngster." He lives with a well-trained poodle. When asked how he spends his time, he says he likes to fish, but adds that he hasn't gone this year. There are interviews with people who are living in motels because they've been laid off, as well as the motel owners who give free rooms to people who have nowhere else to go. There's a used-car salesman, who likes to tailgate cars in the neighborhood to see if they have his business's plate frame, who is so close to losing his job, he can only laugh when he says, "I hope it gets better." And  the owner of a kosher deli at the corner of Michigan and Roosevelt who nearly cringes as he refers to the hard-core S&M bar next door as a "private club," The proprietors of this private club also make an appearance ("these are what's known as splay canes, made by a Detroit company called Spankin' Cane"). There's a pre-op transsexual prostitute who is addicted to heroin. Tracks line her forearms and there's one on her forehead. "You gotta do something to keep workin' out here, you can't just do a day sober," she says. She tells a story about a client asking her to defecate on him, then adds, "I hope to find that right job, find that right house. Everyone wants a house with a white picket fence."
The world mostly comprises hidden lives, people who work hard, then pass away without notice. More often than not, people don't get their white picket fence or their secret lair. That Kelley recognized the importance of what George Eliot called "unhistoric acts," that he knew there was a world outside of celebrity and wealth and museum retrospectives and that it was big and interesting even if it went largely unmentioned, made him the kind of artist who comes around maybe once in a generation. Success is one thing, but failure, as Mike Kelley seemed to be acutely aware, is always more interesting.
mmiller@observer.com
Note: The headline for this article, 'I Do Mind Dying,' is a reference to the book Detroit: I Do Mind Dying by Dan Georgakas and Marvin Surkin, an in-depth history about the labor movements and radicalization of Detroit's working class in the 1960s and 70s , and an overall excellent study of the city, which was reprinted in a third edition this summer from Haymarket Books.