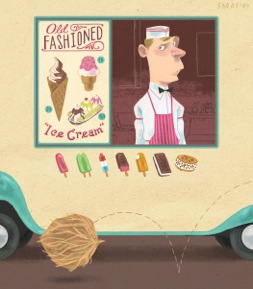 I was shocked—shocked—to hear about the backlash that erupted a few weeks ago after a mom on the Park Slope Parents message board complained about ice cream vendors infiltrating our local playgrounds, in a craven attempt to force their obesity-promoting, lactose-intolerant intolerant products on innocent children.
In the interest of full disclosure, I was eating a pint of ice cream—well, gelato—when I received my weekly PSP digest, which was otherwise a lovely and harmless collection of stories about people getting help spying on their nannies using iPhone apps, or choosing the right Jewish day school, that read like an ever-so-slightly ethnic Nicholas Sparks novel. But when I got to the blast about the the ice cream incident, I pushed back my stracciatella in shame.
It all started when someone posting under the innocuous-enough pen name "Sarah" emailed the list serve with her plight: "We were at 9th Street playground… and two different people came into the actual playground with ice cream/Italian ice push carts… I left with a crying 4 year old because I would not let him get ice cream…" "Sarah" then wondered if the vendors were even legal, prompting a self-described "curmudgeon" named Crystal to opine, "We could list other illegal activities in the playgrounds… public urination, selling drugs… And yet… unlicensed food carts… are somehow more acceptable?"
Now, normally things named Crystal disagree with me—crystal meth, Crystal Pepsi, that natural deodorant that looks like the lovechild of a golf ball and Troy from Out of This World—but this one really struck a chord.
When I was coming of age in the early nineties, I wasn't allowed to walk in Prospect Park alone due to the likelihood of running into a heroin pusher or a Crip; who knew it could get so much worse, so fast? That the sound of the Mister Softee jingle—a cloying riff on "Pop Goes the Weasel," itself an incredibly threatening nursery rhyme when you think about it—would become tantamount to Peter Lorre's creepy pedophilic whistling in M?
A lot of people have gotten upset over the suggestion that frozen treat purveyors should be outlawed from peddling their popsicles during spring and summer, their busiest seasons, and use this kerfuffle as yet another excuse to bash what one Gothamist commenter called Park Slope's "whiny bitchass" parents.
Here, however, I must disagree. In fact, I'll take it a step further. Why limit the ban to mobile carts? I can't count how many times I pass Ample Hills Creamery, the popular ice cream spot on my corner, and flash forward to the day when my son will demand a cup of the small-batch brand's "Salted Crack Caramel," so named for the diabetes-courting mixture of saltines, butter, sugar and chocolate mixed in to the base flavor.
I'm already working with my life coach to prepare for the first time I'll have to deny my child pleasure; to see his angelic little face redden, his rosebud lips twisting into a grimace as he experiences soul-shredding rejection for the first time.
But honestly, what about toy stores? Pet stores? Restaurants that carelessly leave Dixie cups full of tempting crayons out on their tables, forcing me to sternly remind my son that he is not the next Basquiat? What of the artisanal mayonnaise store opening mere blocks from my apartment? I shudder to think of a beautiful day of bonding ruined when my child stops in his tracks, hurls his ciabatta BLT to the sidewalk and pleads with me to buy him a tub of white-truffle mayo to bring out the flavor of the house-smoked heritage bacon. Oscar Wilde was so right when he wrote, "I can resist anything except temptation." And it's everywhere.
(Incidentally, to those judgmental dictators who implore, in the parlance of Nancy Reagan, that parents just say "no": We don't say "the N word" in my house. Instead we say, "Whatever would mean the most to you emotionally," while making the sign language gesture for "freedom".)
I think it's interesting that the Hester Prynne of this urban fable, the PSP-er identified only as "Sarah," limited her complaint to vendors in the playgrounds, when deep down we all know the playgrounds themselves are the real problem. How many times has a perfectly good walk in the park been sullied when a child stops short, unable to resist the siren song (banshee shriek is more like it) of the tire swing, that staph infection on chains that calls to mind something pulled out of the Tin Man's rotting S&M dungeon. Or the mealy, festering sandbox? And don't even get me started on slides. Did Chutes and Ladders teach us nothing? How will squeaking down a white-hot gauntlet of gnarled metal help my son get into Dalton?
For Christmas last year my father had the audacity to give my son the Fisher Price Chatter Telephone! In addition to confusing a post-millennial child with its obscenely large handset and alien rotary dial, its "pull cord" might as well have arrived from the factory tied in a noose.
Oh, and newsflash to the 16 people who gave the Play-Doh Fun Factory a five-star rating on Amazon: it's not so "fun" for kids with celiac disease and a penchant for eating brightly-colored clay, or for young foodies who want to learn to make a decent hand-cut tagliatelle. Sheesh.
These things—these fripperies—may seem as harmless as a soft-serve cone, but as we now see, even that is a trauma waiting to happen.
And what of Sarah and Crystal's inquiry as to whether the ice-cream vendor's presence was legal? Turns out it's not—Megan's law does not have a Sno-Kone proviso. Look for a Park Slope Parents citizen's arrest initiative soon.