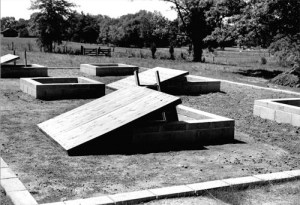 The Fields Sculpture Park at Omi International Arts Center, in Ghent, N.Y., will unveil a reconstruction of Alice Aycock's sculpture A Simple Network of Underground Wells and Tunnels on June 2, the museum announced today. The work was originally installed at a storied 1975 land art exhibition called "Projects in Nature" on privately held land in Far Hills, N.J.
Land art is having a little boomlet at the moment. The recreation of Ms. Aycock's work comes about just as the Museum of Contemporary Art, Los Angeles, gets ready to open its much-awaited and slightly delayed exhibition "Ends of the Earth: Land Art to 1974" on May 27.
Ms. Aycock has been in the news of late since she is suing to keep her sculpture on view in its current location in Terminal One at the John F. Kennedy airport in New York. Terminal management wants to remove it from its current location to make way for food-court vendors.
The Omi notes that in 2013 the artist will be the subject of a drawings retrospective at the Parrish Art Museum, in Southampton, N.Y., and the Grey Art Gallery at New York University.