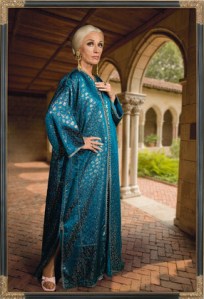 On Friday, May 18, many museums in all boroughs of New York City are waiving their fees to let you in for free. Folks, it's Art Museum Day. The $25 entrance fee at the Museum of Modern Art is no longer a reason for not having made it out to see the Cindy Sherman retrospective. The Association of Art Museum Directors has coordinated with International Museum Day (a worldwide event that has been happening since 1977) to arrange for free, or reduced, entrance in participating museums across the country. This means you can take in some of the best shows from the Cindy Sherman exhibition to the Kehinde Wiley show at the Jewish Museum at a bargain.
Here's a list of participating museums in New York City, what exhibitions you can roll to on Friday and what discounts you can get.
American Folk Art Museum, "Jubilation/Rumination: Life, Real and Imagined," free
Asia Society Museum, "Revolutionary Ink: The Paintings of Wu Guanzhong," free
Bronx Museum, "Juan Downey: The Invisible Architect," free (It's already free admission, but you can get 20% off new membership)
The Brooklyn Museum, "Keith Haring 1978-1982," 2-for-1 admission
Grey Art Gallery, "Storied Past: French Art from NYU's Collection," free
The Guggenheim Museum, "Francesca Woodman," 2-for-1 admission
Japan Society Gallery, "Deco Japan: Shaping Art and Culture, 1920-1945," free 6-9 p.m.
Jewish Museum, "Kehinde Wiley/The World Stage: Israel," free
Metropolitan Museum of Art, "The Steins Collect," "Schiaparelli and Prada: Impossible Conversations," and "Tomás Saraceno on the roof: Cloud City," (the terms of the Met's participation are not yet designated)
Museum of Modern Art, "Cindy Sherman," Half-priced ticket when purchased online
Studio Museum in Harlem, "Shift: Projects/Perspectives/Directions," free
Whitney Museum of American Art, "Whitney Biennial," pay what you wish 6-9 p.m.
UPDATE: While this post initially did not include the details of the discounts offered at the various participating museums, this post has been updated to reflect those specific offers.