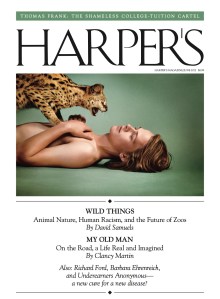 When we started talking about the branding potential of provocative magazine covers earlier this month—thanks to the young Aram Grumet—we can't say we expected the conversation to include Harper's. We don't usually appreciate the political cartoons and subtle photography on its covers until we're halfway done with the issue.
Then we saw June!
Harper's is a monthly, so it's a technically disqualified from the rivalry we've wishfully projected onto Newsweek, TIME, and Bloomberg Businessweek.

But it's nice to know what a high-brow contestant would look like nonetheless. Like an ocelot making love to a beautiful young man. Or trying to eat his face. Her face?  Eye-catching, at any rate.
The photo, advertising David Samuels's piece on the Bronx Zoo, is from Ryan McGinley's "Animals" series (currently up at Team Gallery), for which the photographer paired his signature naked hipsters with live animals, shot in mobile studios set up at zoos and animal sanctuaries.
And if you think the shot Harper's chose is a little racy, consider what they passed over from the series. A marmoset hanging from a man's pubic hair, for example.