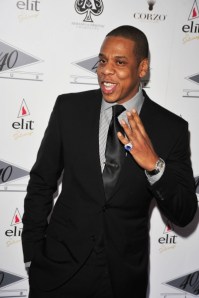 Jay-Z is curating a new concert festival for…Philadelphia. As New Yorkers try to rationalize this inexplicable turn of events—Jay-Z, an investor in the soon-to-be-real Brooklyn Nets, who recently played Carnegie Hall, and who could probably clean sweep the next New York City mayoral election—catering to the needs of the (ahem) sixth borough (as some would have it), Beyonce's husband recently took the time to speak to Rolling Stone about it.
Buried at the very end interview is Jay-Z, finally bringing a nasty rumor about himself to rest.
Jeff Rosenthal, interviewing Jay-Z for Rolling Stone:
So, everyone wants to know – streets are talking, suburbs, exurbs – you recently played Jenga for the first time, at 42 years old. What was that like? When was the last time you lost at something?

Where did that even come from? That's some kind of rumor. I played…
Yes, it's true. Jay-Z playing Jenga did hit the gossip circuit for a brief moment. Onward:
I heard you played Jenga at a birthday party in L.A. …

That wasn't my first time playing Jenga…he lied. He lied! I played Jenga many times. We have Jenga nights at The Spotted Pig. And I'm not very good, 'kay? [Laughs]
And now you know:
Jay-Z—an investor in Ken Friedman's West Village hotspot The Spotted Pig—has indeed played Jenga.
He is not very good at it.
They have Jenga nights with Jay-Z at The Spotted Pig.
And so it was: The hottest "game night" in all the land, declared.
Jay-Z Will Invite Obama to Play His Philadelphia Music Festival [Rolling Stone]
fkamer@observer.com | @weareyourfek