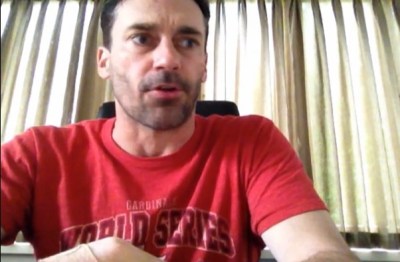 Jon Hamm is a curious leading man. After the success of Mad Men, Mr. Hamm made a conscious effort to differentiate himself from Don Draper by appearing almost exclusively in funny roles–everything from multiple SNL appearances to Bridesmaids to 30 Rock to the alt-comedy of Comedy Bang Bang! and Between Two Ferns.
But being a funny dude is taking its toll on Mr. Hamm, as evidenced by his recent appearance on RookieMag.com— that teen girl blog edited by Tavi Gevinson–where he just phoned (vlogged?) in the answers to relationship questions written by high school-aged girls.

Yes, he will answer your questions about farts. But he doesn't have to be happy doing so, and he is going to look really hungover while giving you kind of a dad-lecture. He doesn't say "Look at your life, look at your choices," but he looks like he's half a second away from it.

The whole effect of Mr. Hamm's "minimal effort engagement with this project has, ironically, made him seem more early season Don Draper than ever. Like when he found out Peggy was pregnant and visited her in the hospital? This reminded us of that scene, except Don Draper would never go to a hospital in a Cardinals shirt and pajama pants, because what is he? A hobo?
Make up your mind, Mr. Hamm! Do you like your new role as a "funny" guy who is relatable to his audiences, or not? And for gods sake, get yourself a shower and a shave. 16-year-old girls don't take advice from men who look like their depressed uncles.