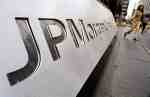 Losses mount: Tack on another $1 billion to the $2 billion-plus in trading losses JPMorgan disclosed a week ago today, says Dealbook, as hedge funds and other investors—knowing that Jamie Dimon's firm is under pressure to sell out from under the losing bet—continue to prey on the firm's huge, illiquid position.
Before Bruno Iksil was nicknamed the London Whale, he was called "the Caveman" for what rivals thought were overly-aggressive trades that nonetheless generated large profits.
Out of stock: Morgan Stanley & Co., Wells Fargo Advisors, Fidelity and TD Ameritrade are among brokerages to stop accepting orders for the Facebook (META) IPO. Morgan Stanley told advisers that it would limit clients to 500 shares each, to better allow more muppets, er, retail customers to get in on the madness.
Whither Europe: A Grexit could cost the eurozone hundreds of billions of dollars. Germany would take the greatest hit, naturally. French taxpayers could be on the hook for 66.4 euros, a recent study showed.
Spain's borrowing costs shot up amid economic data that showed the country had slipped back into a recession, and reports that nationalized Bankia SA was experiencing a run on deposits.
Short capital: The world's 29 systemically important financial institutions, or SIFIs, need to raise an additional $566 billion, a 23 percent increase on existing reserves, to meet new capital requirements, Fitch Ratings said today.
Home stretch? Foreclosures at five-year lows, and depressed home prices and cheap borrowing rates mean buying a house has never been more affordable, according to an index tracked by the National Association of Realtors. Good luck getting a loan.
BofA power play: Bank of America hired three Credit Suisse investment bankers who specialize in the power industry, according to a memo obtained by Dealbook. Ray Wood will become BofA's new head of U.S. power and renewables; Gavin Wolfe and Jason Satsky will work under Wood.
No truth in ads: Skechers agreed to pay $50 million in a settlement with the Federal Trade Commission, after the shoemaker aired advertisements promising that its "toning shoes" could help consumers "get in shape without setting foot in a gym."
Pass the nitrous: Private equity firms buy dental management companies. Unneeded procedures ensue under pressure to boost profits.
Survey says: Why's it always gotta be the finance guys who act like online dating sociopaths? A 24-year-old finance pro (non-banking division) asked a date to complete a written survey (sample question: "Mike is very masculine; at any point did you feel he was compensating for anything?"); the date sent the questionnaire to Deadspin.
[Photo by Mario Tama/Getty Images]