Could this become any more wonderful and/or absurd? Apparently, yes.
Last week, French street artist Kidult took a fire extinguisher full of pink paint, and unleashed it on Marc Jacobs' SoHo boutique last week, painting the word "ART" over the store. Marc Jacobs had some fun with it on social media, and then, commodtized the ostensible political message by turning a photo of his painted store—which is vandalism or art, depending on how you see it—into a $700 T-Shirt, with the caption "Art by Art Jacobs." Kidult, the artist, was pissed, and made it known.
Jacobs may have the pricier shirt, and may in fact be fairly credited with the cannier move in this little battle, but Kidult has now fired back with a shirt of his own.
It shows the artist, in the act of tagging up the Marc Jacobs store.
And it is, to be fair, pretty great: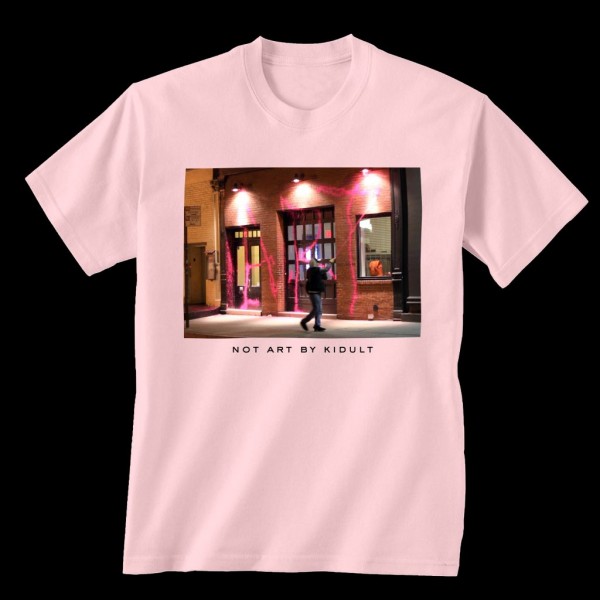 Kidult Tweeted out a picture of the shirt to the Marc Jacobs International account, poetry in motion, offering up his new wares: "@marcjacobsintl u got the one for the dumb ass, i got the one for the people, Real power is people …"
Exclusive news of the shirt—which is on sale at Kidult's website—originally appeared on graffiti blog 12oz Prophet. If you'll remember correctly, Marc Jacobs' shirt (below) retailed for around $700.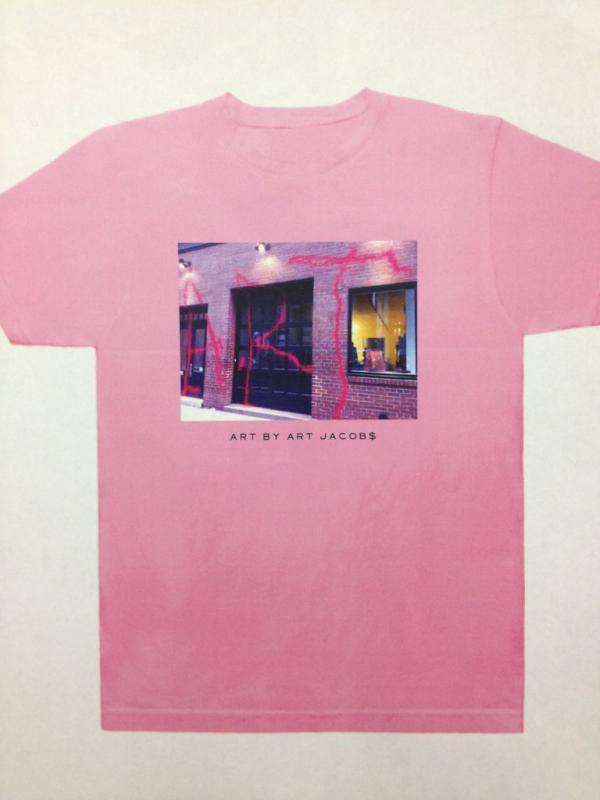 Kidult will apparently be selling his for about $10.
Maybe had Jacobs used his brand equity to sell a bunch of "Art Jacobs" shirts at $10 a pop, Kidult would've been corned, and his latest play might not be as crafty as it is. Fact is, this image is kind of wonderful, and is the kind of thing one could easily picture becoming a symbol of whatever retail rebellion Kidult is speaking to, or simply, aspiring street artists (or their fanboys who appropriate for the sake of fashion).
Given the choice between the two shirts—or at the very least, the pricepoint—we might be inclined to buy Kidult's shirt. To that effect, we may have spoken too soon: Marc Jacobs might've just been outplayed.
PREVIOUSLY:
Marc Jacobs Store Vandalized by Graffiti Artist, Whose Graffiti Was Then Appropriated by Marc Jacobs
Marc Jacobs vs. The Graffiti Artist, Round 2: When Jacobs Turns Vandalized Store Into $680 Shirt
Marc Jacobs vs. The Street Artist, Round 3: The Mannequins Get Involved
fkamer@observer.com | @weareyourfek