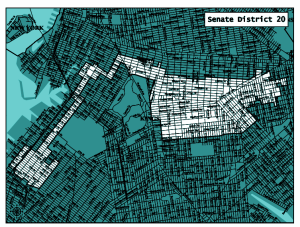 The State Legislative lines for the 2012 cycle are now set in stone.
Yesterday evening, a judge denied a Democratic request for a preliminary injunction against the redrawn map, which means that there won't be enough time now for the trial to intervene before primary season begins for the State Senate and State Assembly elections this year.
Legal arguments against the lines based on population variances and other issues will continue, but any impact they have will be for future elections, not this one.
The ruling is the latest legal blow to the Senate Democrats as they sought to undo the Republican-drawn map, which contorted the boundaries of the districts in a way that that badly damages their odds of retaking control of the chamber.
Previously, the lawsuit against an extra State Senate seat was rejected and the federal government provided preclearance to the map under the Voting Rights Act, thwarting the two main other legal arguments against the new lines.
And now there are no more options.
View the ruling below:
[scribd id=93915265 key=key-1qawik2dtrglhmgl5vmu mode=list]