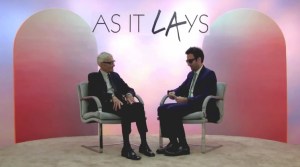 Vidal Sassoon, the hairstylist whose pioneering cuts set fashion standards in the 1960s while "fit[ting] right in with the fledgling women's liberation movement," according to the Associated Press, has died at the age of 84. Initial reports say that he died of natural causes. While we rarely cover hairstylists on these pages, it happens that the Los Angeles artist Alex Israel recently interviewed Sassoon for his As It Lays series, which Observer columnist Adam Lindemann reviewed last month when it screened at Reena Spaulings Fine Art on the Lower East Side.
Unlike many of the other L.A. subjects that Mr. Israel interviewed, Sassoon handled Mr. Israel's wide-ranging, sometimes bizarre and always deadpan questions with impressive grace and aplomb. He revealed that he likes to eat Hebrew National hot dogs when attending movies, that he prefers to use air-conditioning (as opposed to rolling down windows) on a hot day in a car, that he does not use Facebook and that his first job was running messages on a bike during the German blitz of London during World War II. He also admitted that he was suffering from leukemia.
Asked his "words to live by," Sassoon paused for a few moments. "I think it's the fascination with the possibilities of the future," he said.
Mr. Israel ends each interview the same way. "What do you want the world to know about Vidal Sassoon?" he said in closing. His interview subject replied, "I think the world's got a lot more important things to know about than Vidal Sassoon."
Watch the full interview below: