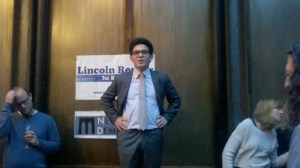 At the Brooklyn Winery in Williamsburg last night, Democratic District Leader Lincoln Restler packed a room full of supporters and announced his reelection campaign. Mr. Restler has carved out a higher profile of an office he admitted is "an elected position that you've probably never heard of" by being a public thorn in Brooklyn Democratic leader Vito Lopez's side, which he continued doing in his kick-off speech.
"Here in Brooklyn, we have had an old-school political machine that's controlled politics in this borough longer than any of us have been around," he said. "Three of the four last … leaders of the Brooklyn Democratic Party have been indicted on charges of corruption, the current boss is under multiple federal investigations."
And, while stressing issues like the need to preserve affordable housing in a rapidly gentrifying, northern Brooklyn district, Mr. Restler embraced his own vulnerability.
"Last time we won by the narrowest of margins, 121 votes, a margin less than the number of people in this room right now, and this time, it's going to be just as close," he said. "They're doing everything they can to take us out."
Indeed, it looks like Mr. Restler will be directly challenged this year. His main opponent will probably be a well-connected community board chair, Chris Olechowski, with ties to Greenpoint's Polish community and the firm backing of the local City Councilman, Steve Levin.
Another thing that will work in "their" favor, Mr. Restler said (rhetorically making his opponent the Democratic establishment rather than Mr. Olechowski), is Mr. Lopez's ties to the larger sect of Hasidic voters in Williamsburg, who constitute a large portion of the Democratic primary electorate in this district.
"They've got a big bloc of votes down in Williamsburg that we can't touch," he said. "Last time around, we won 79% of the vote outside of the Jewish community in Williamsburg. And this time, we're going to have to win by a bigger margin. We'll have to bring out even more voters."
"But standing up to entrenched political power is never easy," he said, clearly ready to make his election a referendum on the powers that be.