Nearly everyone on the Internet is either talking, writing, or reading about HBO's new half-hour coming-of-age dramedy 'Girls.' They can stop, now.
All of them.
The last word and first authority on the matter has arrived. The nexus of Twitter, television, and criticism get no better than this:
A dead horse, from HBO's now-cancelled gluemaking David Milch drama, 'Luck,' hate-watching HBO's 'Girls' and Tweeting about it.
Yes, this is a thing: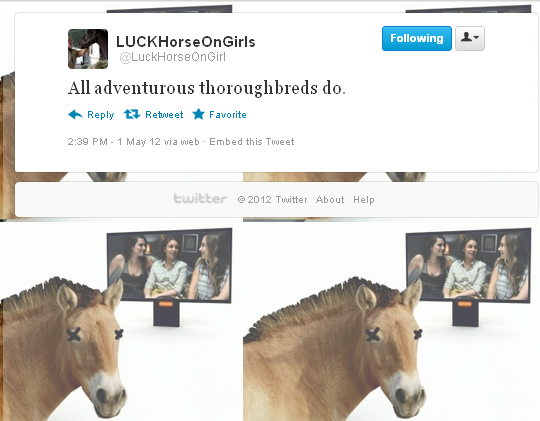 Also:

There is little else to add here, other than: (1) We have heard from a reliable source that the account is being manned—mounted, saddled, whatever—by GQ mischief makers and associate editors Lauren Bans and Daniel Riley and (2) GQ editor-in-chief Jim Nelson, we do not know what kind of Kool-Aid your underlings are subsisting on, but we humbly suggest everyone there take an enormous swig of it.
fkamer@observer.com | @weareyourfek